What are the wolves up to?
Further photos and updates are available on the "UKWCT Friends" Facebook group.
(Please note: the group is not an official UKWCT site; opinions and views posted there may differ from those of the UKWCT.)
For updates from September and October, click here.
November and December's updates are available here.
---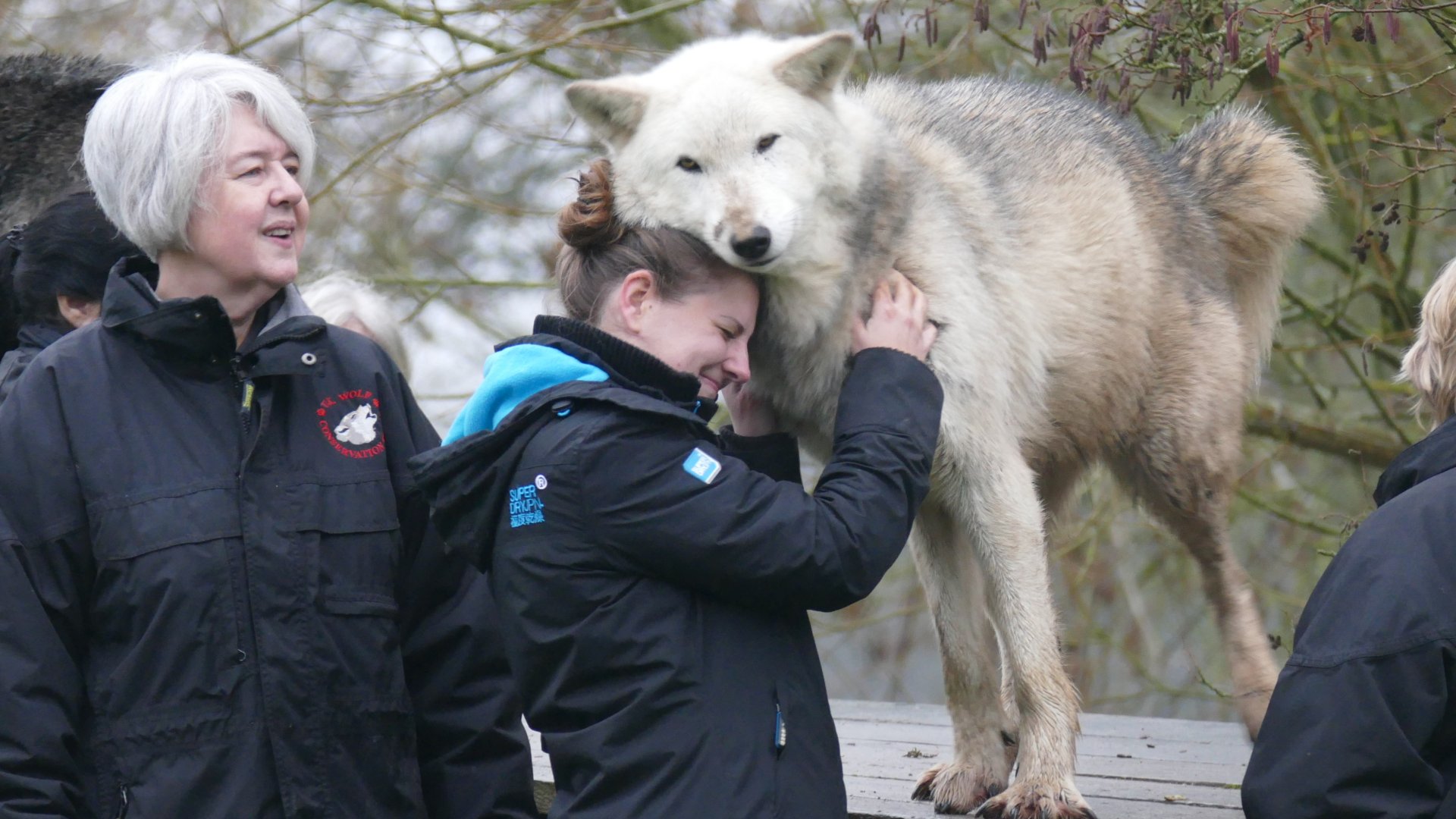 19th January 2019
Saturday was an overcast, drizzly and chilly day, not that such things bother the wolves. As ever, Mosi was there to greet the volunteers as they arrived, with Torak keeping an eye too - just in case there were enough to take him out. (As it happens, it's coming up to breeding season and so Mosi and Torak walks are suspended, regardless of how many people turn up. I'm not sure that Torak's worked that out though!)

The food for the wolves was left to defrost, then the tortoises were given a bath by one of the volunteers. At the same time, the second webcam was brought back online, albeit due to technical reasons involving Windows 10 it won't show much when it's sunny.

With the jobs done, the Beenhams then came out for a walk. All three wolves were fascinated by the various smells and at varying times all three of them rolled in something extremely smelly... the handlers may have wrinkled their noses, but the wolves thoroughly enjoyed it! Again, it was a longer walk than in the days when we were open to the public, with the wolves stopping for the occasional fuss.

Mai was also eager to come out for a walk and as usual with her we went around the top field. She took a shortcut through the wooded area that was planted a few years ago and as last time she set a very brisk pace - she is still full of energy!

After a short break, the handlers went in with the Beenhams. I stayed outside initially so that I could get some pictures of the Beenhams greeting the handlers. Tundra and Nuka were their usual affectionate selves, while Tala had to make to with a lesser amount of fuss as the result of her sister: Tundra doesn't like Tala getting much attention in the run up to breeding season.

After a while I entered the enclosure and both Nuka and Tundra came over, with Tundra proffering a play-bow in greeting. Nuka, as is usually the case, tried his hardest to get me to play with him and this time he came up with a new game. This took the form of flopping on his side for a belly rub, then after a random amount of time suddenly getting up on all fours, ready for a game of chase. Of course I couldn't chase him, but he seemed to enjoy the game anyway! This is very unusual for a wolf of Nuka's age, as normally males lose that playfulness as they mature.

With the games out of the way and dusk approaching, we set off to finish preparing the food for the wolves' feeding session. This time the menu consisted of chunks of deer and paunch, giving the wolves something bigger to chew on. As there were ten of us there, it didn't take long to feed them all - albeit it takes a while for the wolves to demolish such large chunks of deer.

With feeding completed and the wintry light fading, we said our goodbyes and set off for home.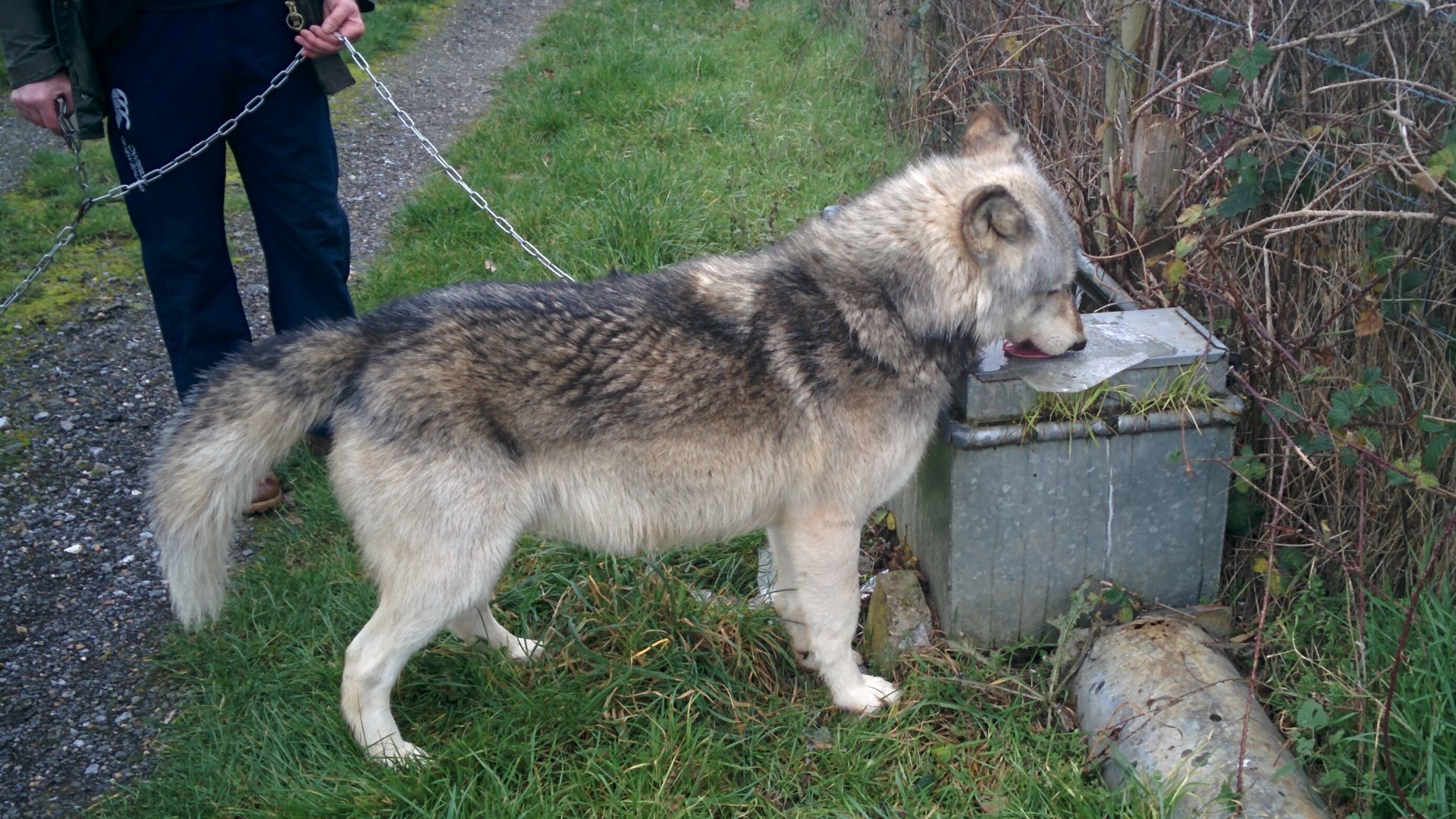 5th January 2019
The first wolf walk of 2019 took place on a cold, dull and still day. Just as well, as it'd have been bitter if it was windy! As usual, Mosi greeted the volunteers as they arrived and while we waited for everyone to arrive some work was done to the main webcam - which should now be up and running again, having been offline over Christmas. With a full complement of volunteers, we headed straight out with the Beenhams (who were eager to come out and explore, not having been out for a couple of weeks).

The breeding season is approaching and we have to be mindful of the effects this causes - even in neutered wolves like the Beenhams. For example, if a fuss is made of Tala, Tundra will come over and tell her off. This made for some fun and games, as Tala was in one of her affectionate moods; she'd approach a volunteer, position herself in full view, then gaze up hopefully with the wolf equivalent of "puppy dog eyes". When she does this she's very appealing and the volunteers had a tough job to avoid Tundra seeing that she was getting an ear rub or a bit of fuss!

Nuka, as ever, was full of beans and perked up when he saw the water trough was frozen over. Nuka loves ice and once the handlers broke some up for him, he rubbed over it, bit into it and licked it.

As is usual these days the wolves set a brisk pace along the walk, covering a couple of miles in much less time than it took on the members' walks.

After the Beenhams had been returend to their enclosure, there was a brief break, then Mai was taken out for a walk. She's generally keen to come out, even if Motomo would rather she didn't! You wouldn't guess that Mai was an elderly wolf, as she still sets a brisk pace... aside, that is, from when she howls back to Motomo. Having lost her howl last year, she's found it again; it's not especially loud but it's much better than it was. Mai's walks never go on as long as those of the Beenhams, as she decides after a while that she'd rather like to see Motomo again.

With two walks completed, we then prepared the wolves' food. It was the typical weekend menu of chicken and beef, mixed up with some paunch (except for Torak, who doesn't like the stuff). Before we fed them, though, we popped in for a brief visit with the Beenhams. On their own territory we have to be even more mindful of making a fuss of Tala, and indeed she didn't get much opportunity from her sister! Nuka barrelled over to say hello, then zoomed off at a rate of knots before taking up a position on top of the mound. That was the last we saw of him until just as we were leaving. As he saw us opening the enclosure gate, he came bombing up, giving a play bow in an attempt to get us to play chase with him... not a game we'd win!

The wolves were then given their food and after tidying up the volunteers set off for home.


---