What are the wolves up to?
Further photos and updates are available on the "UKWCT Friends" Facebook group.
(Please note: the group is not an official UKWCT site; opinions and views posted there may differ from those of the UKWCT.)
March and April 2019's updates are here.
January and February 2019's updates are here.
November and December 2018's updates are available here.
For updates from September and October, click here.
---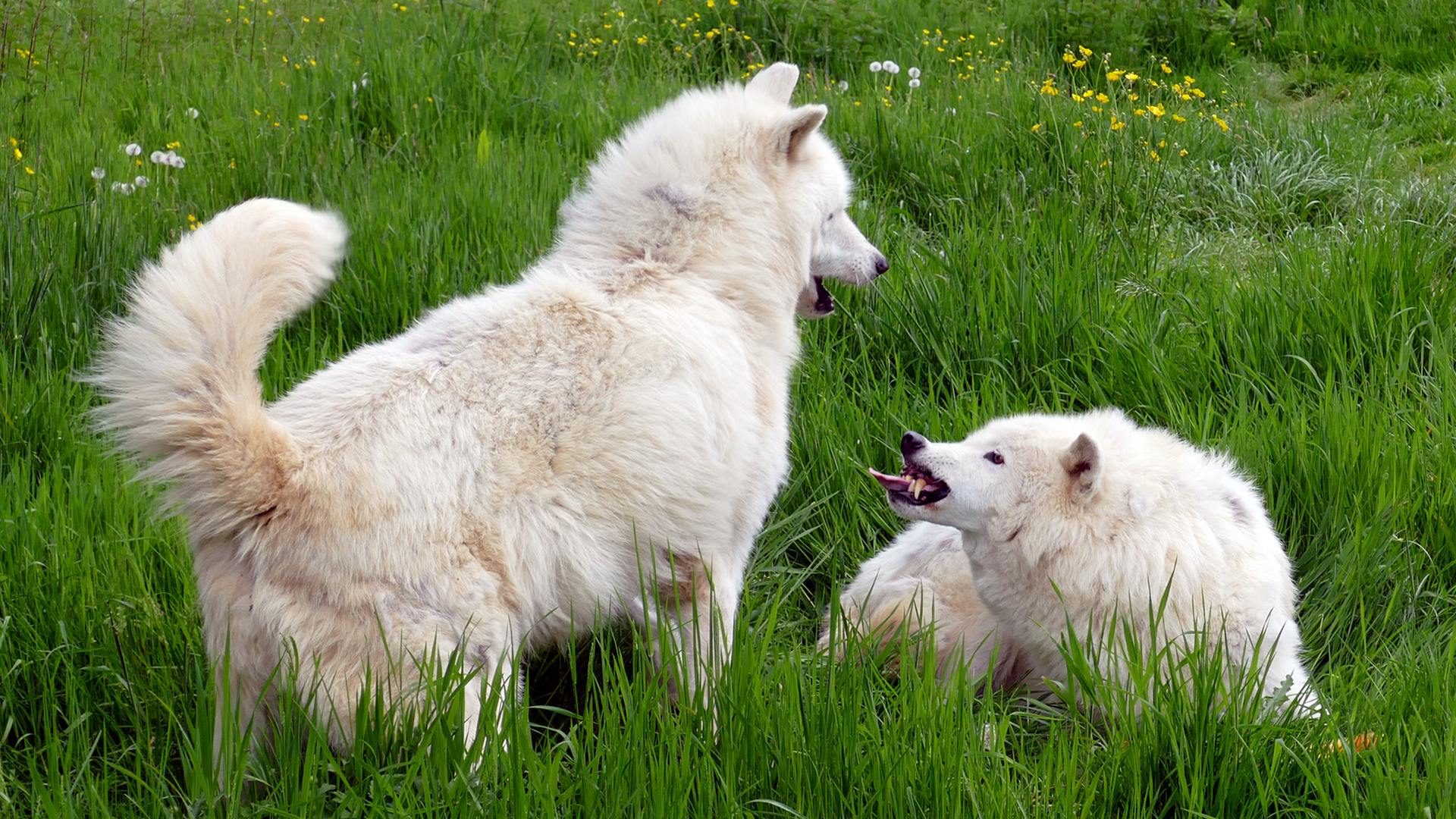 19th May 2019
Although rain was forecast we thankfully had none which was good as we had 3 walks to fit in today. One of our handlers Linda was late due to a problem on the M4, but we quickly got going with the Arctic wolves, Massak, Pukak and Sikko, once she arrived. They decided they wanted quite a long walk today and who are we to disagree! The walk was lovely and calm with no pheasant capture this time, although 2 flew out of the long grass in front of Massak and Sikko, but the wolves were too far from them to make any effort to catch them.
We spent some time 'plucking' all 3 of them as they are rapidly losing their winter coats now. We all love to pull it out! After we left a trail through all the fields of their fur.

After the obligatory tea break, we took out the Beenhams, Nuka, Tala and Tundra. In contrast to the Arctics we set off at a furious pace! I was handling Nuka who was in a big rush to get somewhere... After a while they slowed down and of course Nuka just had to roll around in something very smelly we suspect had belonged to a fox. We did have a lovely calm walk with them all until Tundra just decided to jump on Tala's back and growl at her while she was drinking from one of the many water troughs in the fields. We just walked them away from each other and in an instant the tiff was forgotten. We also spent some time 'plucking' all 3!

Once they were back in their enclosure, Torak and Mosi were taken out and the rest of us stayed behind to prep the food and also mix up some enrichment treats in the shape of melons scooped out and filled with a mix of mackerel and meat.
We then all spent a while in the Beenhams' enclosure having our heads rubbed by the girls and sloppy licks from Nuka, while removing yet more fur from them!
After feeding them we threw over the melons and enjoyed watching them interact with each other. Of course they all wanted the melon the other one had and there was some great lip curling going on!

We made sure the tortoises were given fresh food and left with the usual smiles on our faces.

Update written by Eve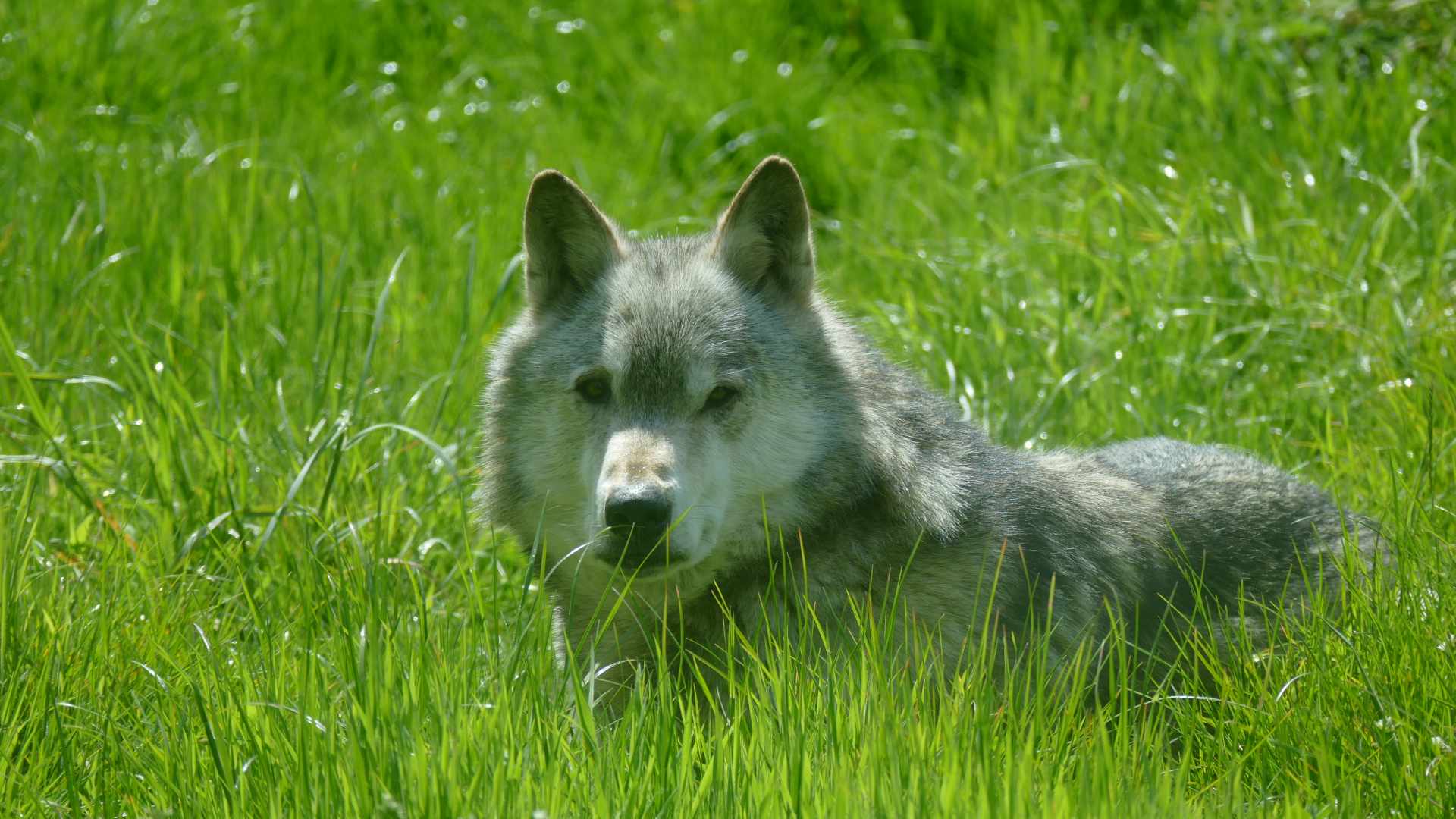 11th May 2019
Saturday started off in the usual way - the volunteers arrived and Mosi greeted them as they arrived. Torak hovered in the background, ever-hopeful of there being enough to take him out for a walk. Unfortunately for him, there weren't quite enough on this particular day.

The Beenhams were, as ever, keen to come out for their weekly walk. They had a great time, sniffing, scraping, rolling, although this time there were no members of the public out and about, so no dogs for Nuka to stare at! They were in an affectionate mood and we stopped several times to give them some fuss and attention. The tensions of earlier in the year have eased and it's now safe to make a fuss of Tala even if Tundra is close by.

The walk was slower than usual, with the wolves revelling in their surroundings; they were determined, it seemed, to make the most of their time out of the enclosure. However, all good things come to an end and they returned back in the early afternoon.

After a lunch break, we said hello to the Arctics and Mosi and Torak through the fence. Both sets of wolves were happy to see us and Torak did something unusual: he squeezed up against the fence, asking for a scratch. He got it, too, and it was a reminder of his European ancestry - unlike the softer fur of the Arctics and North American wolves, his coat is coarser and more wiry to the touch, much more like our old European wolves' fur.

It was then time for a special treat for Motomo: it's his birthday soon, so I'd brought in some sardines in sunflower oil. Of course, Mai joined in and both wolves, after a quick lick, gobbled them down quickly. Mai especially seemed to enjoy them and it's likely she'll have more in the future.

We then prepared the wolves' usual food, but before feeding them we went in with the Beenhams. Tundra came over and was up to her usual rubbing antics, before being joined by Tala. Nuka, meanwhile, eventually came over, performed a lightning-quick greeting to everyone, then went back to the corner to watch the Arctics. He did, however, return briefly just as we were leaving the enclosure - he was looking for a bit of fun, and found it in the buttercup I'd been carrying (not something I'd usually do, but it was an especially large one). It was a reminder of how quick the wolves can be, as it was gone in a flash! Of course, having got his prize he lost interest in it and wandered off... for a wolf, the fun is in grabbing something, the thrill of the chase.

We then fed the wolves and as usual they were generally keen for their food - it was the typical mix of beef, chicken and paunch, although none of the latter for Torak as he can't stand it! After saying our goodbyes, we headed off; it had been another successful day for both wolves and handlers.