What are the wolves up to?
Further photos and updates are available on the "UKWCT Friends" Facebook group.
(Please note: the group is not an official UKWCT site; opinions and views posted there may differ from those of the UKWCT.)
For updates from September and October, click here.
---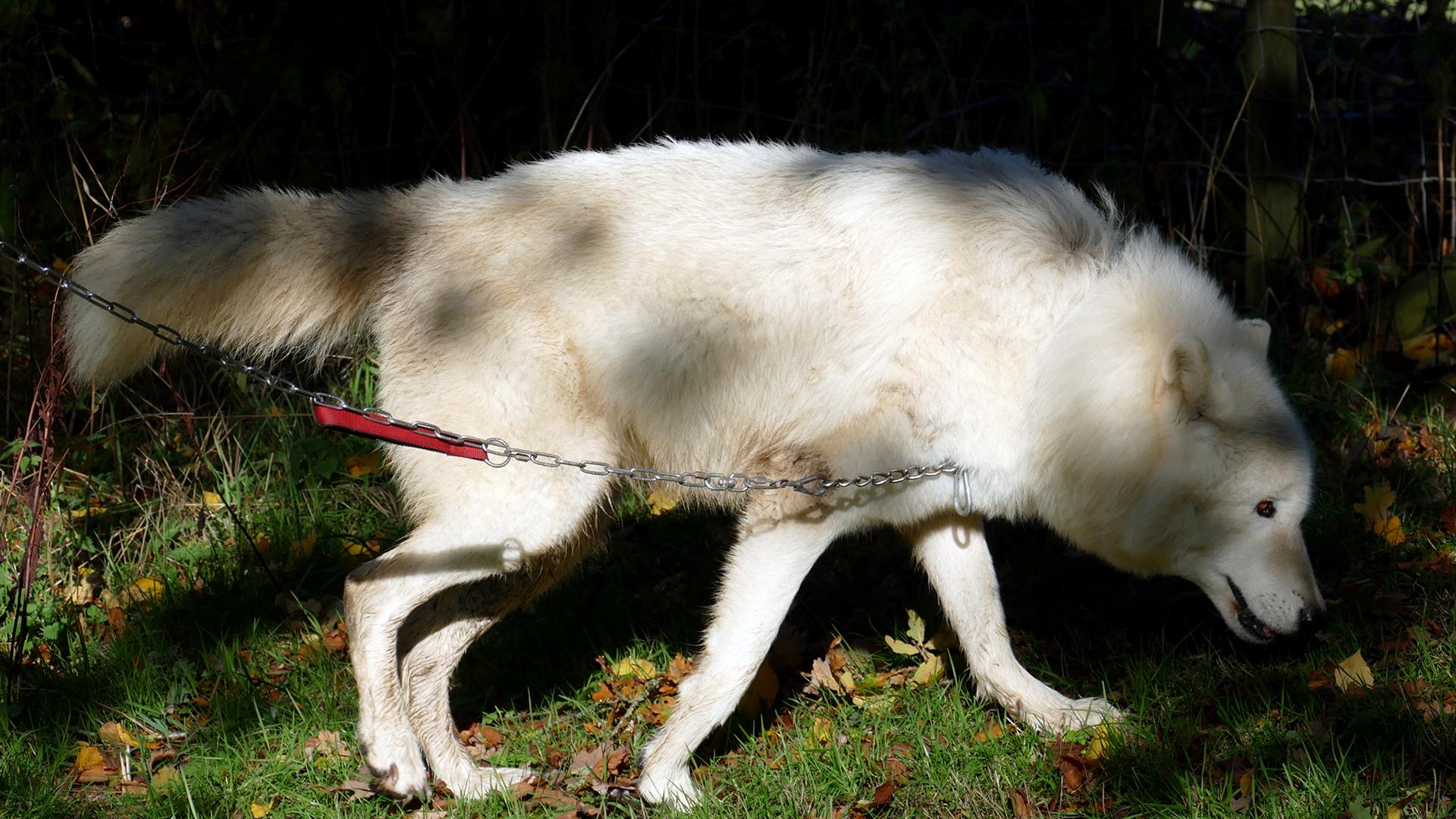 11th November 2018

We began the day with an Arctic walk. They were very keen to come out and Pukak and Sikko came rushing out onto the hard standing, Massak taking his time a little more. Due to all the recent rain we have been having they are looking less white and more beige/brown at the moment. They shot off at a rapid pace, a lot less ambling now, which keeps the handlers much fitter. Today we had a number of other handlers joining the walk so it was a nice small group on the walk. Since retiring from walks with the public Massak has begun to take the lead much more as he no longer has to worry about ensuring everyone stays with the group (very much a high ranking wolf's job which keeps them at the back of the pack to herd stragglers) however, today it was interesting to see that even a small group of volunteers will see a return of that behaviour. Sunday's group ensured that he spent some time 'rounding up' people he felt were falling behind. Not only did they dictate the pace but also the route today, obviously after they had all put on their smelly diesel aftershave/perfume. We had some group rolling at a couple of spots of diesel; in fact Pukak did more of a 'splat' rather than a roll in an attempt to take ownership of the spot. Once they were 'smellied up' we shot off to continue the walk and investigate more yummy smells. I also handled Sikko today who only tried to wind the boys up a couple of times on the walk, she really is a little monkey and is always looking for the opportunity to get Pukak into trouble, but when Massak comes over to see what is going on she swiftly retreats to a safe distance and leaves the chaps to work it out.

When returning to their enclosure Sikko attempted to 'wind up' the Beenham girls as she passed by their enclosure but was swiftly moved on. They really are enjoying their new enclosure and couldn't wait to get back to 'fence running' with Mai and Motomo. A quick coffee and comfort break while food was prepared (wolves and tortoises) and it was then the turn of Mosi and Torak to go out for their walk. A couple of us stayed behind to give the tortoises their enrichment walk. They love to eat clover and walk about on the grass and gravel (surprisingly). We all know that tortoises move slowly, at least we thought they did, but these guys will lull you into a false sense of security, munching on clover, and then off they go, usually heading for secret places we can't reach them (under the portacabin being a favourite destination) so we have to keep our eyes on them to foil their escape plans. The Arctics keep a close eye on them as well and it is amusing to watch their expressions as the tortoises wander over to the barrier; it is a bit of enrichment for them too. Popping the tortoises back in their home ensuring they had enough food and that their water was fresh we said good night to them.

Another quick comfort break and then it was Mai's turn for a walk. She was quite eager to come and was very pleased to see everyone. Like Mosi she rushes off which tests the fitness of her handlers as they work at keeping up with her. On cue, Motomo began to howl, setting off a wonderful chorus (it doesn't matter how long I have worked at the Trust the sound of wolves howling is always very special and makes my soul sing). Mai didn't look back; she was off with the rest of us trying to keep up. Mai really is a lovely wolf with the softest face and it was joyous to see her enjoying her walk. On her return Motomo was waiting for her but, as seems to be the norm now, she bypassed him and shot over to the fence to show off to the Arctics that she too was sporting some very interesting smells.

Another coffee and a bit of late lunch (well actually biscuits – the handlers' true weakness) and then off to walk the Beenhams. They were also raring to go and very excited to finally get to their walk. They said hello (sometimes a nice wet hello) to those handlers not currently walking them and off we all went. It is lovely to see how Tundra's confidence has grown since retired from public walks, as much as we enjoyed having the public on walks, she is so much more relaxed and doesn't bother to herd anyone now, not even other volunteers who don't quite keep up with her. She strides ahead and there is the feeling that when handling her you are part of a race to get to the front of the group. If Tala or Nuka are leading, she will speed up to 'overtake' and place herself in the lead position.

The walk with the Beenhams is also less ambling than before – more power walking. But it is truly wonderful to see them rushing from one smell to the next, always alert and aware of any noise or movement. We returned them to their enclosure and watched them run over to the fence to check out what the Arctics had been doing while they were out and show off how really delicious they smelled.

Now came the time all wolves wait for – dinner time. Interestingly most of them are not that hungry at the moment and left some of their dinner. We still weigh their food to keep an eye on how much they are eating. With the weather so mild and their winter coats all through now it seems that their appetites have lessened. However, I fed the lovely Torak who didn't seem affected by the mild weather and ate all his food, although, a little more refined in his consumption, not so much 'wolfing' it down, more paced mouthfuls.

Today all the wolves had bones as enrichment so we threw them over and watched them sniff them before taking them off for later.

As they had bones in the enclosures and dusk was imminent, we didn't enter the Beenhams enclosure for enrichment so we said goodbye to them all and got into our cars.

During the drive home I reflected on the fact that the weather had been kind and, as always, had a big smile on my face and a warm fuzzy feeling in my heart as a result of yet another wonderful day in the company of wolves.

Update written by Fausta.
---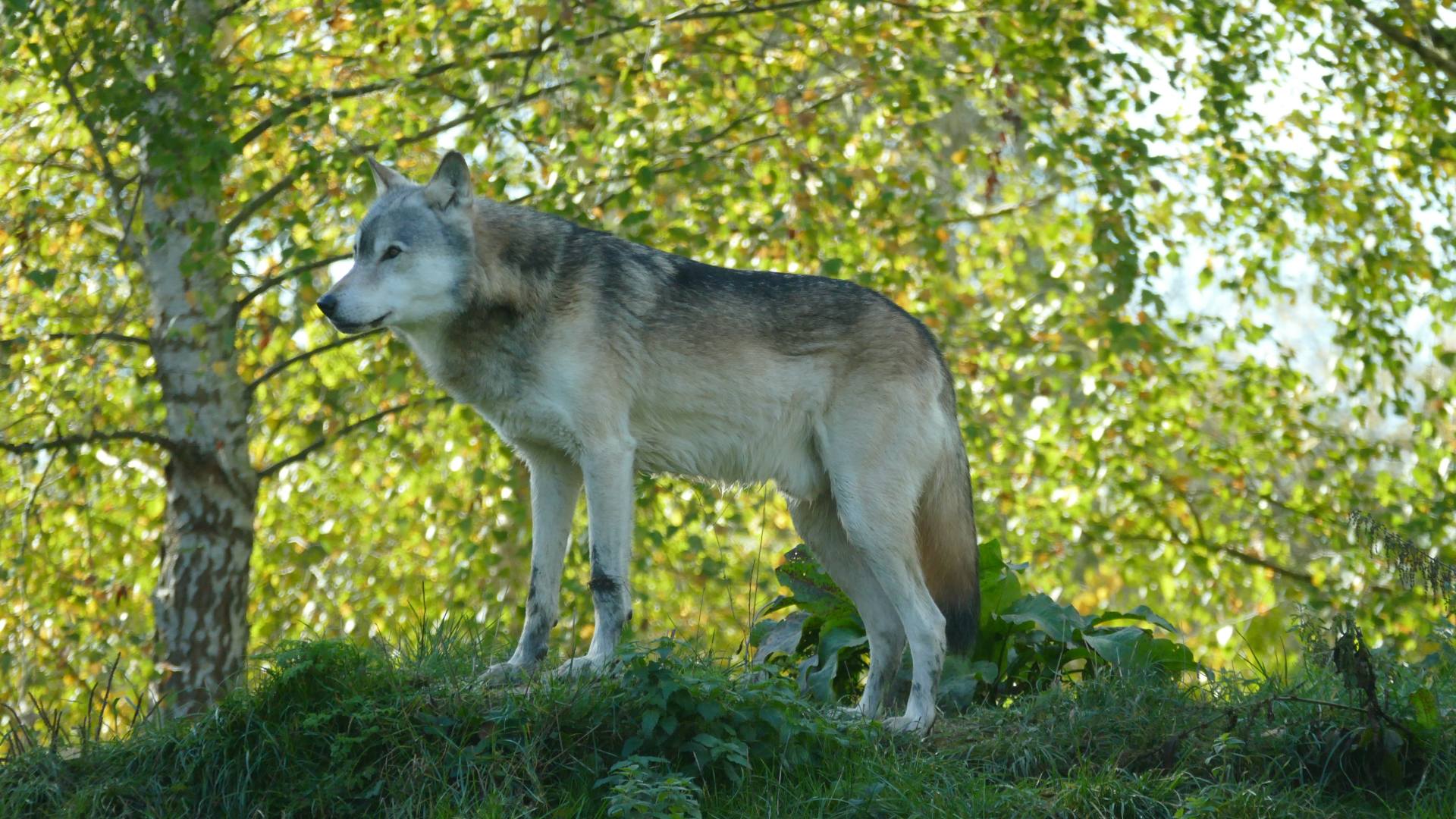 3rd November 2018
An autumnal day

We started off the day with a walk with Torak and Mosi, who both appear to be thoroughly enjoying their walks. They certainly keep their handlers moving at a brisk pace! The local wildlife kept appearing too which certainly added extra interest for the wolves. Firstly, Torak spotted a deer up ahead who was then joined by a friend before bounding off across the fields. They clearly didn't want to stick around to meet Torak and Mosi up close! Once we reached the spot where the deer had originally appeared, Torak then came across a pheasant behind the gate. Unsurprisingly the pheasant was quick to make a speedy exit! We later encountered the same two deer again who this time fled to the safety of Tsa's garden. Next to appear was a hare fleeing from its hiding spot when the wolves had clearly got too close for comfort. We mixed up the route a bit differently today for them both which produced some puzzled faces at times, but the wolves are as quick as ever to catch on. Not only did this add to the enrichment of the walk but also added to the length, so that Torak and Mosi both got to enjoy an extra-long walk.

It was the Beenhams' turn next and Nuka, Tala and Tundra all were clearly eager to come out, bounding along the fence to meet us when we went to collar them up. All three of them seemed to be on a mission and all the handlers had to walk at a fast pace to keep up! Tundra is most often to be seen leading the way nowadays, completely opposite to how she was on the public walks. At one point, one of the handlers stayed back so that he could get some nice photos of the wolves when they walked back along. This left Tundra a little unsure at first as she couldn't see who it was from a distance but even then, she was leading the way with Nuka and Tala following closely behind. She's a lot more confident now that there's only people she knows on the walks. Again, we mixed up the route a bit different from normal, so things were kept interesting for them as well as providing them with a nice long walk.
(Editor's note: the Beenhams had a 2¼ mile walk, compared to 1½ miles when we were open to the public!)

After lunch it was Mai's turn for a walk. This as always was accompanied by howling from Motomo awaiting her return. A full chorus of howling erupted on the walk as the others joined in but Mosi in particular could be heard. She didn't seem to be too impressed that her sister was out on a walk! Mai's walks are usually always much briefer than the others as she's always eager to get back to Motomo. We attempted to take her a different way to lengthen the walk, but Mai decided it was time to go home and she wanted to go back. Once home though, she isn't interested in going and seeing Motomo first. She was straight over to the Arctics to show off instead!

We then all did some leaf litter collecting before enjoying going in and socialising with the Beenhams for a while. Nuka was happy with a quick, excited hello to everyone before running off to chill out under a tree. It seemed he wanted to keep an eye on the Arctics instead! Tala and Tundra were happy to enjoy a fuss for much longer, with head rubs all around for the handlers.

Next it was feeding time and after their normal dinner, they were then all treated to a pheasant each. We threw them over but most of the wolves didn't seem too interested as most of them weren't that hungry. Torak though appeared more interested than most. He had pinched a bit of Mosi's dinner before when she wasn't looking and trotted off with it, disappearing to the back of the enclosure. When we called and threw the pheasants over, he reappeared, still holding the same bit of meat which came complete with a large clump of grass! He then quickly dropped the meat when he spotted the pheasant. After a few mouthfuls of feathers, he returned for his first bit of beef and then tried to carry that off along with one of the pheasants. It soon came apparent though that it was too much to carry. After another go at the pheasant and another mouth full of feathers, he went back again to the bit of meat and trotted off again. I'm sure all the wolves will enjoy their pheasants later on instead.

Update written by Deborah.
---