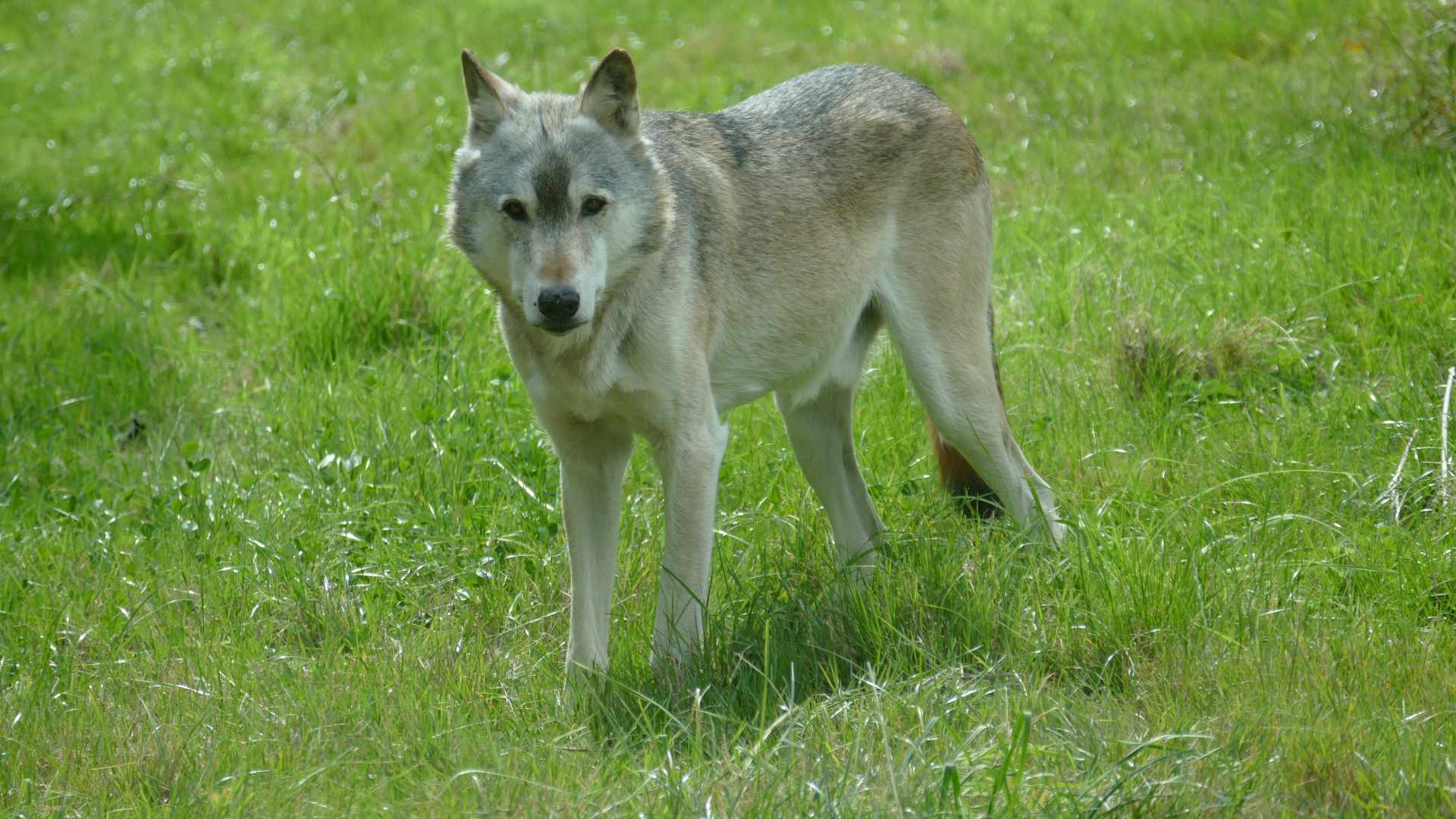 31st August 2019
Saturday started off warm and breezy in Beenham and the lower temperatures were welcomed by volunteers and wolves alike. I went into the Trust office to work on sorting out the Internet access, as the office had been offline for a while.

While I was in there, plans were being made for the walk which, as usual, was with the Beenhams. Once they were rounded up they came out and had a generally leisurely walk, with much sniffing and of course some rolling in smelly stuff. The highlight for Nuka, at least, was when we saw some folks flying drones up by Ridge's Belt. Nuka was thoroughly absorbed by the buzzing noise he could hear (he couldn't see any of the drones, as we were some way away). We went back the way we came, all of us enjoying the breeze. We didn't go over the bridge today, but we did go down to The Bourne. Nuka started speeding up in anticipation of a drink, but he was in for a disappointment: the stream (and the pond) had dried up! Luckily for him, though, further upstream there was some water and he waded in, sinking a couple of inches into the cool mud. He came out, muddied, full of water and with a happy demeanour, and ambled along for the rest of the walk. His sisters had also had a good drink and they went off to lie down in the shade once they returned to their enclosure.

It was then time for lunch. I took mine in the office and thanks to some caffeine got the Internet connection back up and running - you can now see Mosi and Torak again via our webcam! The wolves' lunches followed, but rather than prepare the food this week I helped with filling up the water troughs, most of which needed topping up. The wolves have buckets of water and much larger troughs, the latter being an ideal size to wade into in order to cool down, as was demonstrated by the Arctics after we'd filled theirs up.

We then went in with the Beenhams, with unexpected results. It started off normally enough: Nuka came over for a quick "hello", before wandering off. Tundra went around rubbing her neck on everyone, while Tala went in search of some ear-rubs and scratches. Tala also found my deodorant irresistible and spent a while trying to shove her head under my arms... not a good fit! The wolves stayed with us all for a good while, but then (just after Nuka had reappeared, with some fun and games on his agenda) it started chucking it down. We took that as our cue to leave, but took shelter inside one of the kennels rather than walking back up through the rain. The sight of five of us all looking out of the doorway captivated the wolves, who watched us in wonderment! Luckily the rain soon eased off and, with the spell broken, we headed back up to the Obs Room while the wolves went back to what would have been a shady spot, had the sun been out.

The day then came to an end and we headed our various ways - both wolves and volunteers seemed to have had an enjoyable day.
---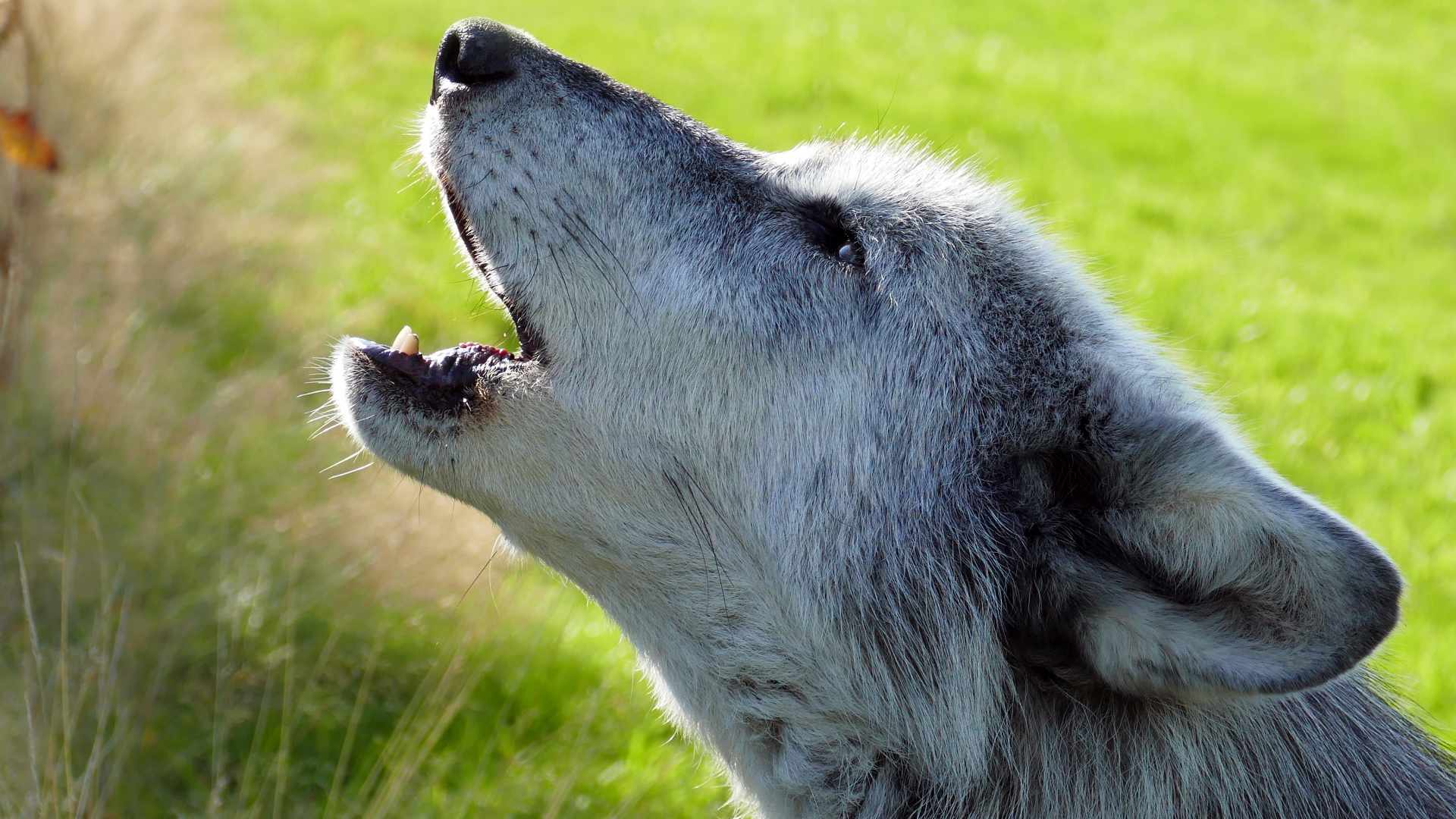 25th August 2019
It was already 24 degrees as we arrived at the trust at 10am. A few senior handlers had been there an hour already attempting to entice the three Arctic wolves out of their holding area but they were not interested. As the mercury mercilessly rose, we took Torak and Mosi out for a quick walk around the top field. The Arctics were very vocal and Mosi enthusiastically joined in!

On the way back we were hoping, by bringing Mosi and Torak near to the Arctics, they would forget themselves and enter the hard standing... Not a chance... However, once M and T were put back in their enclosure, Pukak walked onto the hard standing and Sarah was able to get him collared up and the others, not wanting to be left out, joined their brother. They were walked down to their main enclosure where they rolled about in the grass and reacquainted themselves with their old home! They didn't need to have a walk and we just left them to settle down while we took the Beenhams out.

As usual, they came in very bouncy and it is quite something to have two wolves' noses and tongues in your face saying hello! Nuka and Tundra stretched up onto their back legs, front paws way up the fence, checking who else was coming out with them. Stretched out like this you appreciate how tall and/or long they are, depending on your perspective!
Along the way Nuka found his usual very dubious smelly substance to roll in! We thought we would walk into the top farmer's field. However, the wolves headed for the shade of the old oak tree, near where the currently dried out pond is, that Matt dug out a few years ago, where we took advantage of the shade for a few minutes.

I was grateful the wolves wanted to head back as I was feeling the heat, along with the other handlers! We all stopped for a sit down and drink before preparing food and carrying out some maintenance. We fed the wolves who, despite the heat, ate well.

We decided to leave after lunch due to the oppressive heat. The wolves were all resting in the shade in their enclosures, some of them were in their water troughs. It was nice to see Tundra and Tala sharing a trough!

With car fans and A/Cs on full blast we left hot but happy.Update and photos by Eve
The Arctics, Mosi and Torak
---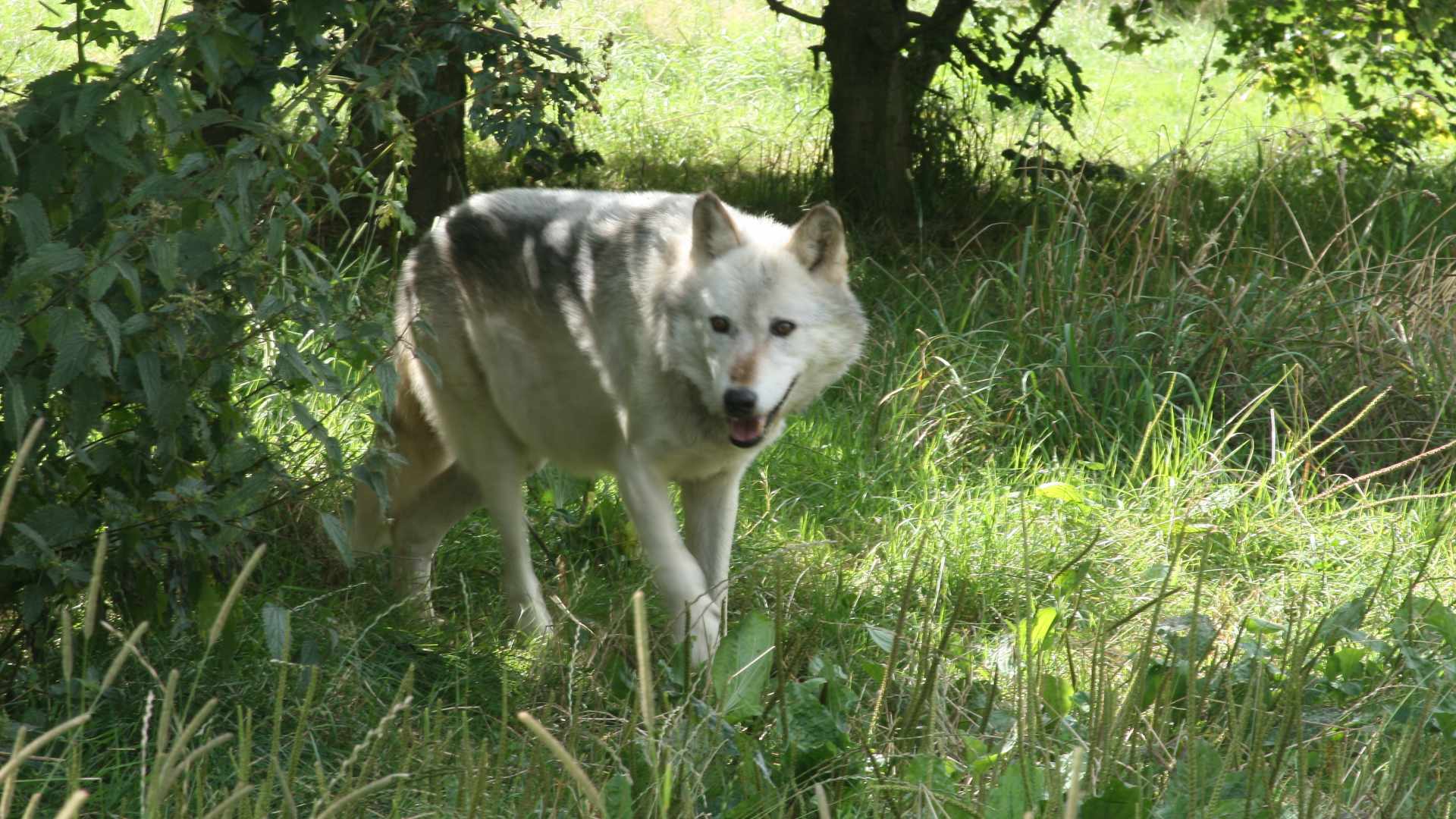 17th August 2019
Mosi was in full vocal action this morning as we arrived. I enjoyed a rather unsubstantial human howl along side her howl of greeting. It really sets you up for the day arriving to Mosi's song! We all stood around and listened as one by one the other wolves joined in.

After doing some domestic chores, we all had a hot drink, with biscuits and planned our day.

Sean and Cammie, our seniors for the day, spent sometime encouraging the Beenhams into their holding area ready for their walk. Tundra, the alpha female was dominating Tala, so none of them were interested in coming through. It's easier bringing them into the hard standing from the smaller enclosure. When we try from the main enclosure they mostly run off and play! It is not the correct etitquette to run around their enclosure vainly attempting and failing to get them to come over to the hard standing with you. Wolf pack manners are you must wait for them to come to you, otherwise they see you as a lower ranking pack member and will have no respect for you.

We had a lovely long walk with Nuka, Tala and Tundra. We came across a couple out walking and Nuka really wanted to go and meet them. He still displays his social side, maybe from all the public walks him and his sisters have done over the years. However, we didn't allow the wolves to get close to them and they soon forgot about them, sniffing around in the log field and jumping up onto the big tree trunk laying down. They used to pose on there a lot during photo opportunities on our members walks, but don't pay much attention to it these days.
Nuka was the one to roll in something very smelly this week! He managed to coat his shoulder with it, making it difficult for us to give him a fuss.
They all went in the stream for a drink in the bottom field and we were entertained with lots of howling along the way. Tundra made it her business to reprimand Tala, whether she howled or not.

After their walk, we had lunch and a couple of us cut down some brambles and stinging nettles that have reached waist height along some of our pathways, producing some itchy skins!

Mai came for a brief walk but seemed to be feeling her age and came back to the howling Motomo! We noticed that while some of the wolves coats are thickening already, Mai is just starting to lose hers and enjoyed a good fur removal before rejoining Motomo, who'd been lounging along the fence with the Arctic wolves.

We all fed the wolves their dinner of beef, chicken and the very aromatic paunch (sheep's stomach). They all love the paunch except for Torak who looks at it with disdain!
Before leaving, we went in to the Beenhams' enclosure and received lots of very vigorous head rubs from the two sisters. Nuka was quite excitable to begin with and wanted to play. He wandered off after a while to sit majestically under his favourite tree.

I fed the tortoises and we all left for the day having thoroughly enjoyed being with the wolves once again.

Update written by Eve; photos by Pete
Motomo, one of the tortoises and the wolves howling
---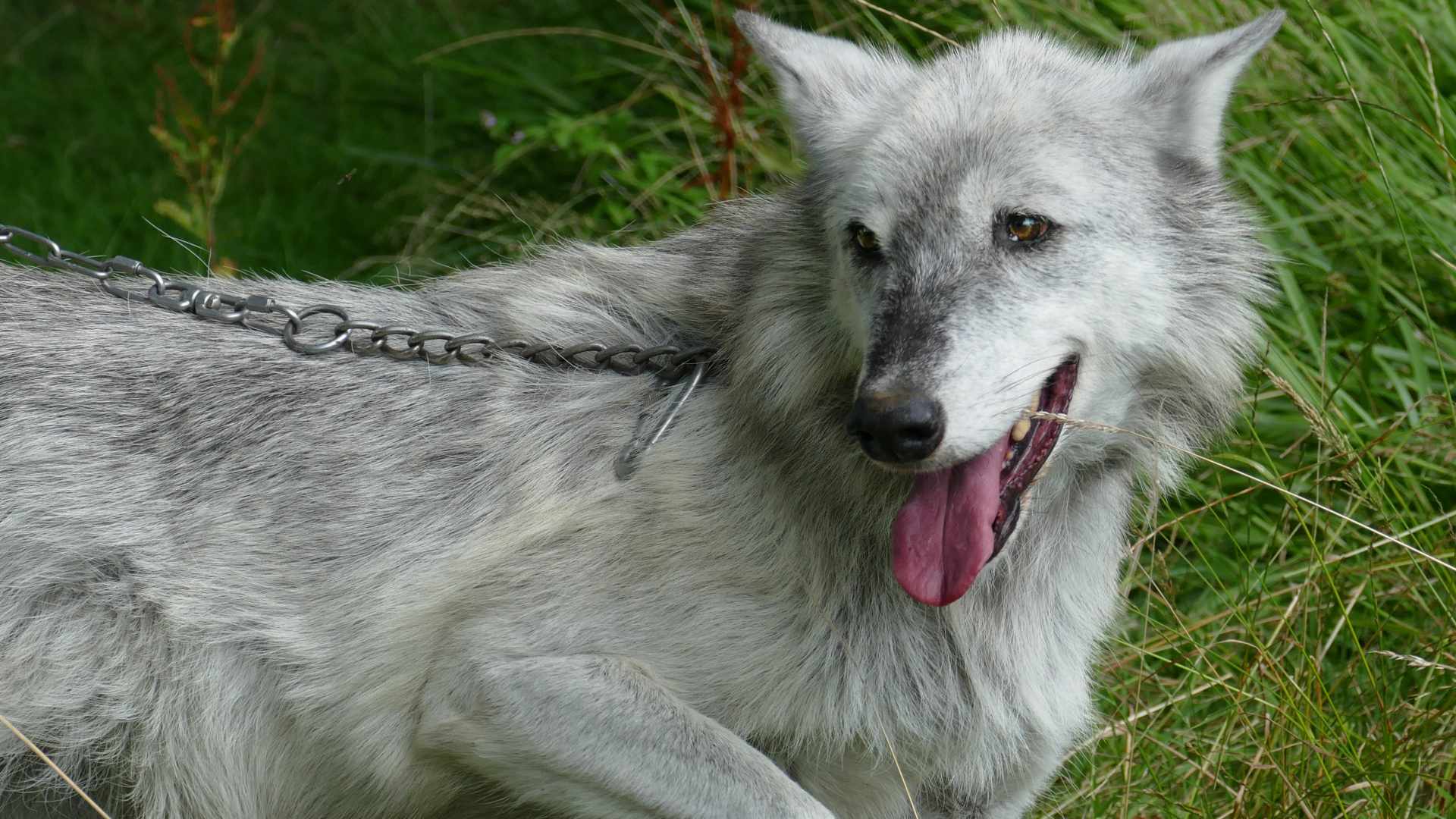 11th August 2019
Cloud, wind and sun for us today! After the gales from yesterday, it was good to have some calm.

We all gathered for hot drinks and biscuits, of course, to discuss plans for the day.

First Torak and Mosi's enclosure was opened up for the tractor to go in and cut all the grass. Torak and Mosi were in the holding area due to the wind last night. We move them in case any trees are blown down and damage the perimeter fencing. While this was going on, we waited for the Seniors to collect Massak, Pukak and Sikko for their walk. However, they didn't come onto the hard standing, maybe due to the tractor, so we moved to plan B, for Beenhams...

The Beenhams were keen to get out and made their way towards the gate with the new bridge, but refused to go across a!so possibly due to the tractor activity. This shows how sensitive they are to any changes in their environment. Tundra rolled around in the spot vacated by the tractor where there has some diesel fumes. Surprisingly Nuka showed no interest at all. We had a lovely long walk with them. Tundra found something very smelly and colourful to roll in, smearing it all over her shoulder, looking like war paint! On our return, we had to put them in their holding area as the tractor was busy cutting their enclosure grass by now.

As it was midday, we stopped for lunch and rehydration, then decided to take Torak and Mosi for a short walk. They came out quickly and set off around the fields having a good sniff around. Mosi went into the pond in the bottom field for a drink and became invisible amongst the tall reeds. Then we did a quick turnaround and took Mai out, leaving Motomo behind howling mournefully. Mai had a long walk around 2 fields before deciding she wanted to come back home, tail held high and displaying her alpha female status here. Some of us then prepared food for the wolves and tortoises while others tidied up the tortoises' pen. Once all the grass cutting was over and the trust became quiet again, a further attempt was made to take the Arctics out. After 15 minutes of watching the three of them mess about, we admitted defeat. It's their choice if they want to come out, so we decided to leave them.

We put the Beenhams back in their main enclosure so they could roll around in the cut grass and fed all the wolves. With the end of the day approaching we spent sometime in with Nuka, Tala and Tundra, who enjoyed fusses and head rubbing! As usual, precious time spent with these wonderful animals.
Most pictures and write-up by Eve; Mosi photo by Cammie.
Beenhams and Enclosure Maintenance
---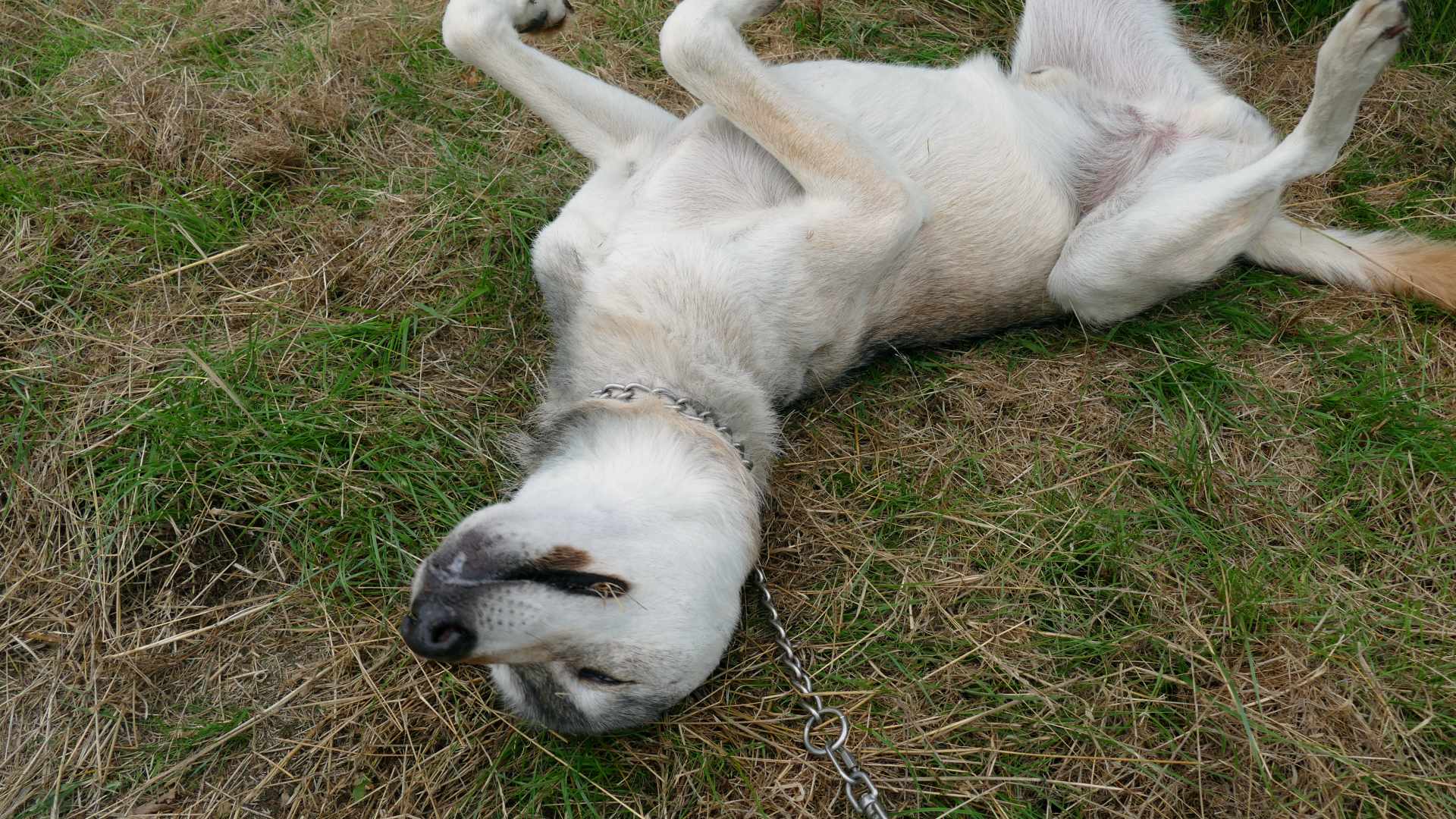 3rd August 2019
Saturday started off with a walk for the Beenhams. Looking sleek in their summer coats, they were eager, as ever, to come out. They were less keen, though, to cross the new bridge. As before, Nuka took a wary sniff of it and the girls stayed further back. We walked past the other wolves, then up into the top field.

Rather than take the long way round, the wolves instead went to the left. Tala explored the dip that Mai had scraped out a few months back, then Nuka trotted over to the tractor. Nuka has a fascination for mechanical things and he especially enjoys rolling in any drips of diesel that may be on the ground. Not to be outdone, Tala joined in, with both wolves flopping around for a while. The walk continued around Ridge's Belt, with the crops now having been harvested. Sensibly, they stayed on the path - stubble isn't very comfortable for walking on!

We went back via the field with a large log in it, then approached the bridge from the other side. Nuka has been the bravest so far and this time he plucked up the courage to stride purposefully across. He was then thwarted by the gate being locked! Our senior for the day, Sue, had the unenviable task of opening the lock from the wrong side. She had an audience, as Nuka watched with interest. After a little while the lock was undone, the gate opened and Nuka surged through. His sisters were more reticent, however; Tundra came through after a short delay, cautiously, while Tala needed more time to build up her courage. Eventually she made it and all three wolves went down to the stream for a drink and some well-earned fuss from the handlers.

The walk came to an end and there was time for a short break before we took Mai out. She was eager to come for a walk, although as usual with her it was very much a short walk: just long enough to see what was going on in the outside world, then she spun around and decided to go back to Motomo.

We then went over to Mosi and Torak's enclosure, having enough handlers to take them out. Both wolves were excited to see us and Mosi burst through the gate when is was opened, followed more sedately by Torak. Their walk was far longer than Mai's, being around the top field and beyond. Torak enjoyed rolling on all sorts of smells, as can be seen in the pictures below. As it was a sticky, humid sort of day, both wolves went eagerly into the stream by what we call "bluebell woods" - the area between the enclosures and the log field. We then returned them to their enclosure, where Mosi drank for a good long time. Mosi, for what it's worth, is on some medication to reduce some swelling in her left foreleg and a side effect is to make her thirsty.

Before feeding the wolves, there was time for some enrichment - eggs, wedged inside kitchen roll tubes. The idea is the wolves like eggs, but would have to work out how to get to them. The Arctics gamely nudged, prodded and squeezed the eggs out, just as you'd expect. The Beenhams took the simpler option and just crunched the whole thing, licking up the egg as it leaked out. Motomo carried his off to a private area, so I don't know what he did with his. Their normal feeding took place afterwards, with Nuka having a left-over egg. By his reaction it was like a dream come true for him!

We then went in with the wolves, with their usual friendly greeting and much rubbing. They stayed with us for around ten minutes, before galloping away. That was our cue to leave and we all set off for home.
Some photos and video were taken by Eve.
Enrichment videos (with alternate views of Nuka)
---