What are the wolves up to?
Further photos and updates are available on the "UKWCT Friends" Facebook group.
(Please note: the group is not an official UKWCT site; opinions and views posted there may differ from those of the UKWCT.)
Previous updates are available:
2021
Jan-Feb
2020
Oct-Dec, September, August, July, June, Mar-May, Feb, Jan
2019
Dec, Nov, Oct, Sep, Aug, Jul, May/Jun, Mar/Apr , Jan/Feb
2018
Nov/Dec 2018 and Sep/Oct 2018
Please note:
Due to the ongoing Covid-19 pandemic, there will be fewer updates than usual. The wolves are still receiving excellent care from our volunteers, there are just fewer of them on site.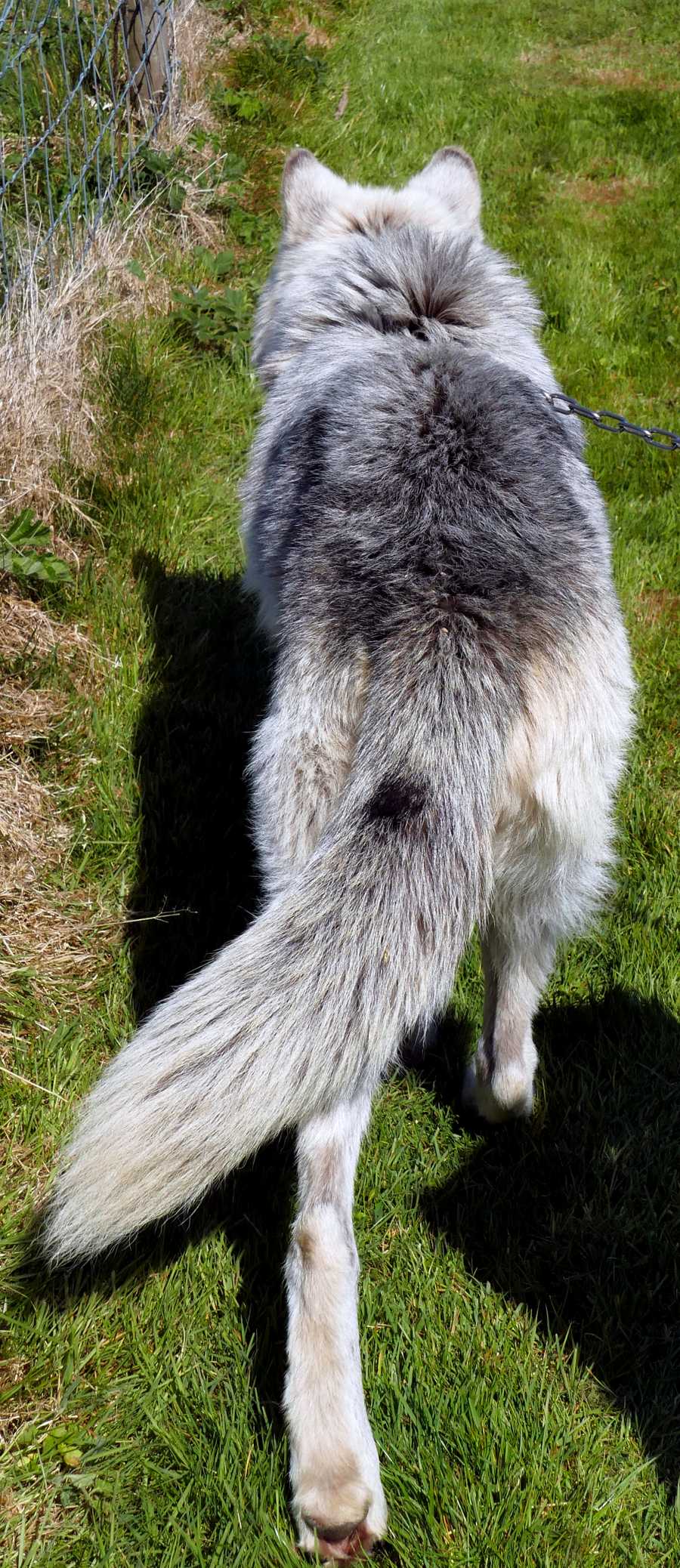 24th April 2021
Wow. What a beautiful day for a walk. The sun was bright, the skies bright blue but with a cool wind which stopped us getting too hot. We were accompanied by the usual soaring kites, crows and resident woodpecker. We even have a bird nesting in one of our tap boxes which means a long walk when we change the wolves water buckets.
The wolves came out eagerly and headed off. Past the stump field, through the bluebell wood and into the front field. We did a slightly different route as we were aware there was a deer carcass in one area and we were avoiding it as the wolves would have smelt it and been distracted from their walk. We met a few dogs off their leads but nothing that phased the Beenham wolves. We completed a good 2 hour walk including plenty of time cooling off in the stream. Once back we had lunch sat outside in the sunshine.
After lunch we opened Mai's enclosure gate to see if she wanted to come out for a walk. She hasn't been out for some time and will be 15 years old next week. She is still looking gorgeous and is a very gentle sweet wolf. She sat for a while near the gate and then her mate Motomo came over to sniff her. It was almost as if had given her permission to come out as she suddenly ran towards the gate and stood patiently waiting to be collard. This made my day. It has been almost 7 months since she came for a walk with me. She completed a longer walk than we thought she would and due to the fact Motomo was howling to her this set the rest of the packs off. There is nothing like a good group howl. We thought she may be tired when we took her back but as soon as she was back in her enclosure she was fence running with the Arctics so she had plenty of energy left.
It was then time for wolves to have their food. Beef, chicken and paunch with a few bits of fish added to help with their joints. They ate well and after a quick fuss with them we all headed home after another great day.
Update by Cammie, photos by Eve.

---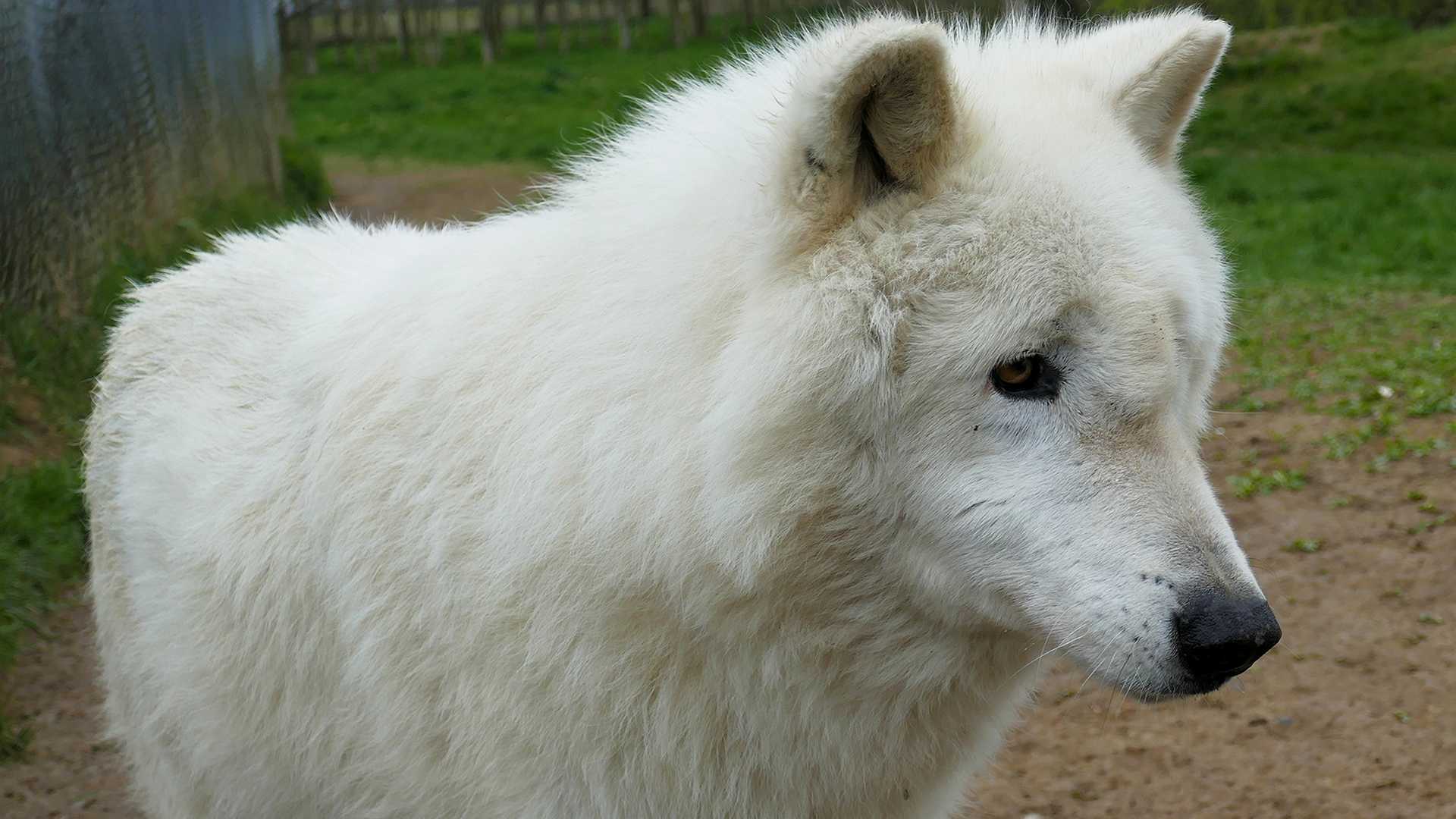 10th April 2021
It was a cloudy start to Saturday morning with a threat of rain due according to the forecast. Although none of us mind getting wet to be with the wolves we were lucky that the weather was kind to us and we only experienced light spitting, so we ended up a little damp rather than wet.

As we arrived Torak wandered past, just to check who was in, and then continued to patrol his territory, while we walked down to the Beenhams' enclosure to encourage them into the holding area before taking them out for a walk. Tala was being told off by Tundra if she came to the fence for a fuss, so clearly Tundra felt a need to assert her authority and remind Tala who is in charge. Nuka did growl a little at Tundra but did not feel the need to get involved too much.
The Beenhams were very keen to come out for a walk, obviously enjoying the easing of restrictions as much as we are. It really was a joy to see them noses down, enjoying all the different smells on the walk and rolling in fresh fox poo. It has been a long time since we have had our sinuses cleared out by the delightful smell of fox poo. In the bottom field they all had a nice drink and paddle in the stream before heading back to their enclosure.

Torak decided he wasn't interested in going for a walk and so after we had a bit of lunch and a hot drink, we decided that we ought to offer the other wolves fusses through the fence; needless to say they enthusiastically accepted our offer, especially the Arctics who always barge each other out of the way to get closest to the fuss. It never stops being the most wonderful privilege to be able to work with these amazing animals who allow us this interaction. I don't think any of us stopped smiling all day.

We then cleaned the tortoises' area and gave them the run of the education room for a while to give them a little more exercise while we prepared some delectable delights for their dinner. We also prepped the food for the wolves. All ate reasonably well except for Mai who didn't seem overly hungry, not unusual as the seasons change, so any food that is not eaten will be weighed and recorded so we can monitor. We replenished the water buckets in all enclosures and checked their beds were made before saying goodnight to the wolves and tortoises before heading off.

We had all had a great day and drove away with the smiles still on our faces.

Update by Fausta, photos by Eve.
---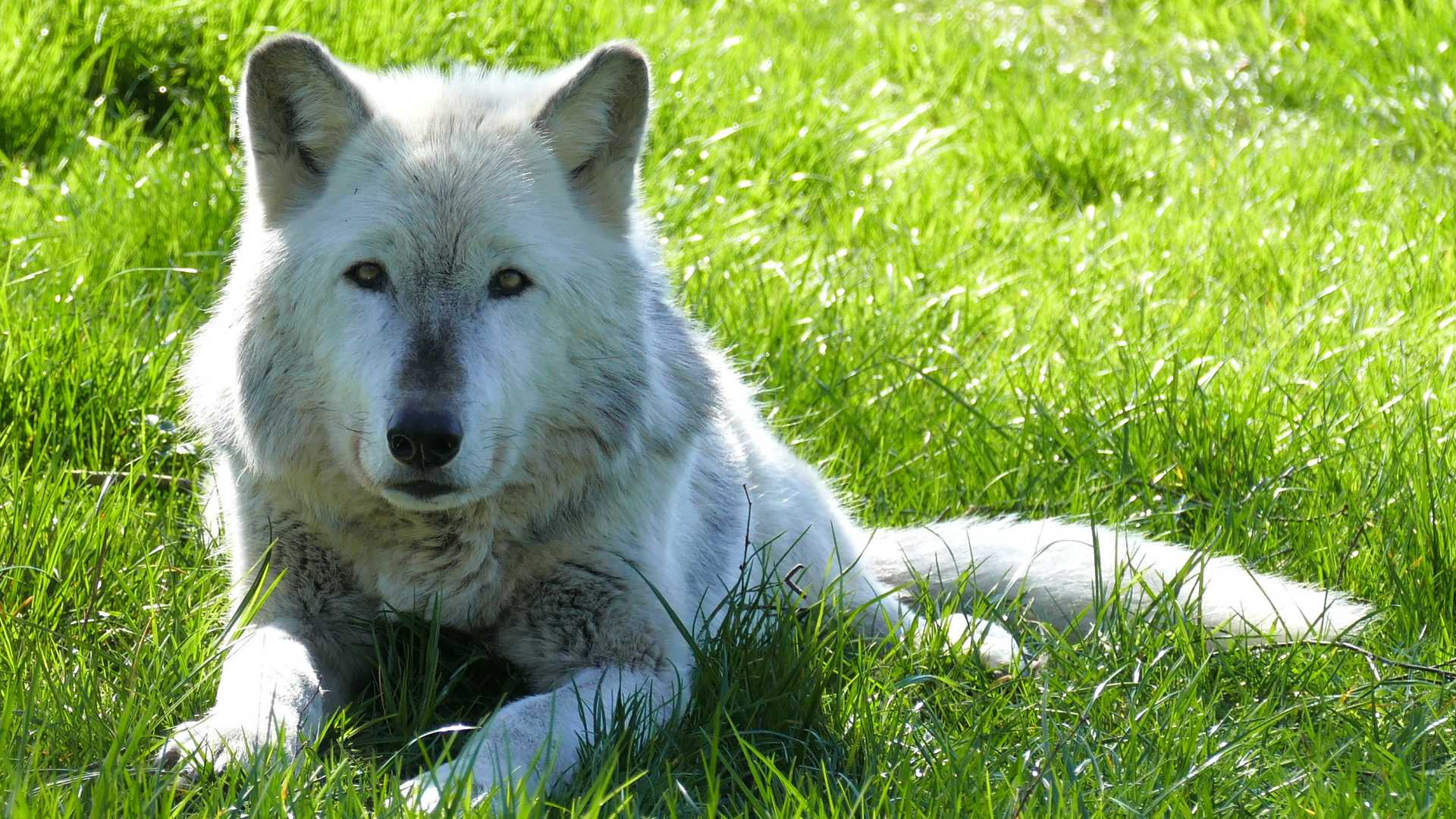 Easter 2021
Easter Sunday with sunshine! What a great way to spend a day with the wolves with eased restrictions.

Torak did a saunter by us upon arrival to note who was here and satisfied, wandered off. We set out with the Beenhams first who were enjoying their second bank holiday weekend walk. Due to lockdown easing, other volunteers had taken out the Arctics and the Beenhams on Good Friday.

Nuka, Tala and Tundra were keen to go out again We all thoroughly enjoyed the glorious sunshine and the great experience of being out with the wolves once again, after such a long break. Tala and Tundra seemed to be more relaxed with each other and Nuka enjoyed rolling around in an unknown substance! All 3 appeared to be unaffected by their 'lockdown'. All the wolves have large enclosures to run and chase each other in, so not walking out is not an issue. We have to walk the perimeters to check they are all in there as you can't see one end from the other end!

In the bottom field they decided to have a good paddle and drink in the stream. Tundra attempted an exit via the far bank, but we decided we didn't want a paddle and she came back the way she had gone in.

Once back we all enjoyed our lunches outside. The sun was very warming so we took the tortoises outside for a romp. They are females called Tin Tin and Rocket. You have to watch them carefully as they can move quicker than you would think! Rocket is aptly named.

Neither Mai or Torak showed any interest in coming out for a walk, although Mai came up to the fence a lot during the day for fusses and scratches - of course we obliged. Massak, Pukak and Sikko all jostled for scratching positions when we came to them, grumbling at each other for prime position. Whoever is first in, somehow Pukak manages to squeeze himself to the front, all squashed up against the fence. We always have an enthusiastic greeting from these 3.

We prepped all the food and put the tortoises back inside, where they munched on their new food with gusto.
Apart from the Arctics who hoovered their food down, the other wolves didn't show much interest. The kites did though! The season is changing and the wolves appetites can change as well. Uneaten food is weighed and logged so we can monitor the amount of food an adjust accordingly.

Having had a great day and grateful restrictions are easing, we all drove off with the sun still shining and us still smiling, leaving the wolves to relax and settle down for the night.

Update and photos by Eve.
---
A chilly but bright start to Saturday saw the Beenhams enjoying their food trail. Snaffling up all the tasty bits of meat the volunteers had placed around their enclosure. Even before we had finished laying the food trail the Red Kites were circling overhead waiting for us to leave food unattended so they could try to swoop down and get it.

There was a quick clean of their kennels. Mainly picking up the straw the wolves had pushed onto the floor, and a refreshing of water buckets. The Beenhams and Torak also had their holding enclosure troughs emptied, scrubbed and refilled with fresh water.

Food was prepared for the rest of the wolves and one of the volunteers had brought in some buffalo horn as enrichment for all the wolves. These were stuff with tasty treats and thrown into their enclosures, making sure each wolf got one so there was no aggression.

None of the wolves were particularly hungry, even Pukak who normally inhales his food. Pukak is also starting to show signs of malting. Once feeding was done there was a bit of tidying and mowing of the site to keep everything looking ship shape and then it was time to go, leaving the wolves content and in peace to enjoy the patches of evening sunshine.
---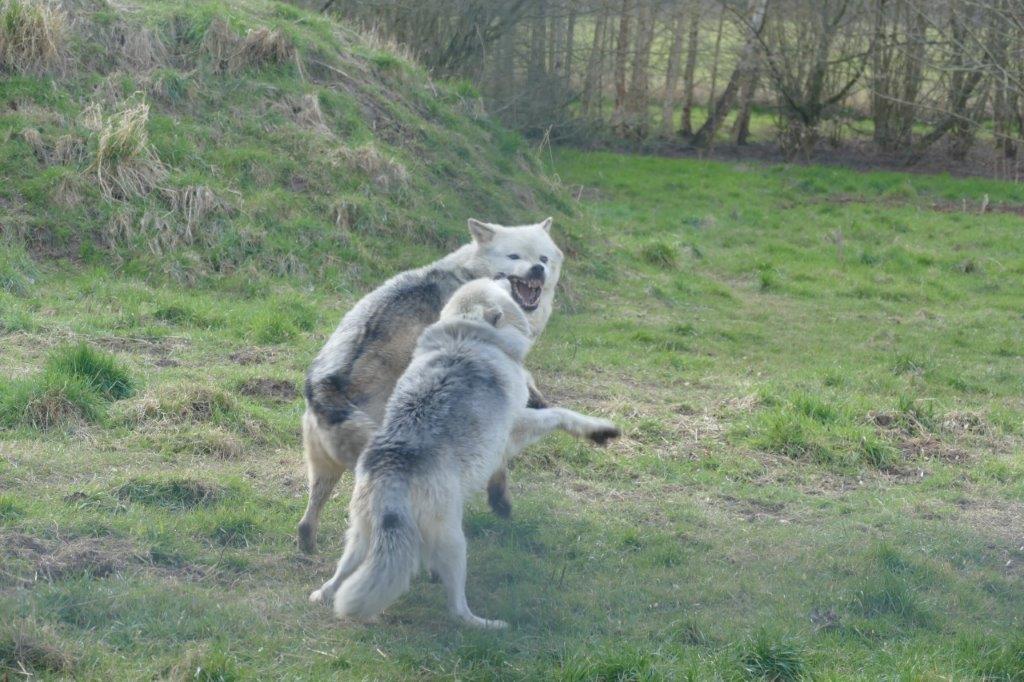 13th March 2021
We arrived at the Trust on a rather grey day. The sun was starting to come through but the wind was bitterly cold. The first job of the day is to always check that all wolves are present and correct and in good health. When Mosi was alive this was easy as she was always waiting to greet you when you came through the gate and would ensure she sent a howl down to the other wolves as if she was announcing who was arriving that morning. Since she has passed we have all missed the welcome we got from here. Torak sometimes makes an appearance but he often just stays at the back of the enclosure until he sees his food is ready. We went on a walk around the back of the enclosure to find him and he was chilling out in the wooded part of his enclosure.

As all our wolves bar Motomo are socialized they are always extremely pleased to see us and come to the fence for a ear rub, massage or whatever else we can do for them through the fence. Mai and the Arctic wolves were the first and they spend a long time having a fuss. Motomo was very funny at this point as although he does not have direct contact he sometimes looks as though he wants to join in. He rolled onto his back just in front of the fence and was rubbing himself on his hessian sack from a few weeks ago. As soon as we moved slightly away he came down to the fence and rubbed himself on it. He then started licking the fence where we had been fussing Mai.

The Beenhams were next for a fuss at the fence and it was noted that Tala wasn't getting told off today by Tundra as she had been over the last few weeks. This is normal for the time of the year as the pressure of being the lower ranking wolf eases. All 3 spent a considerable time at the fence and we received lots of licks.

The Red Kites were also fascinating today as they soared over the enclosures bending their wings and tail in the wind. We get used to hearing a swooping sound now as we feed the wolves.

The highlight of the day for me was seeing that Mai who will be 15 this coming May seemed back to her usual self. The past few weeks she seemed to have been showing her age a bit but today she was back fence running with the Arctics and challenging Motomo over food.

We gave them their food and headed off home. For me it was just in time before a heavy hailstorm.

Written by Cammie. Photos by Sue.