Walking with wolves
The wolves will not be walking in February & March due to breeding season. The Trust is then hoping to restart walks in April but in a different format instead of a walking membership. Further info will be posted on here when details known.
We will continue to offer 
Discovery Days
,
Howl Nights
, 
Photographic Daysand of course we are open every Wednesday of the year between 11 AM and 4 PM.
Have you ever wanted to see a wolf close up? Have you wondered what it's like to walk amongst them? You can find out by coming on one of our regular wolf walks. The walks are held most weekends and take place over the fields around the site of the Trust. The walks take roughly an hour and a half, but this can vary as the wolves set the pace!
After a short safety briefing, you'll be introduced to the wolves and handlers for the walk. The wolves then set off across the fields, allowing you to get an excellent view of them as they sniff, scent and scratch. There are also plenty of opportunities to take photos, with the route specially chosen to provide several especially photogenic areas.
You'll see the wolves interacting with their environment, whether it's investigating a scent trail, rolling in something pungent or taking a dip in our stream. You'll also be able to view the other wildlife on site; if you're lucky you'll see a hare or see a majestic red kite soaring overhead. You may also get to experience the haunting sound of a wolf's howl, as the wolves will often call to the other packs back in their enclosures.
Throughout the walk volunteers will be on hand to answer any questions you may have, or you may prefer to wait until the "stump talk" which is roughly halfway through the walk. While the wolves take a short break, you'll learn about the history of the Trust, information about wolves in general and their current conservation status and details of the projects supported by the UKWCT.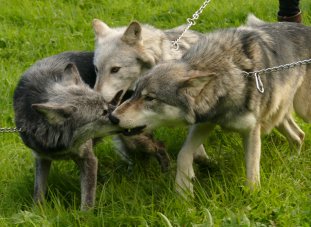 There is a chance to further support us by purchasing gifts in our shop. A tour of the centre follows, allowing you to see the other packs and compare the different types of wolf we have on our site.
The final enclosure has an elevated viewing platform and this affords an excellent view across the area, with a bird's-eye view of the large pond contained within the enclosure. It's an ideal photo opportunity.

To come on a walk, contact the office.

A subscription to the printed version of Wolf Print is also included, one of the world's leading wolf magazines packed full of wolf news and informative articles. You'll also receive a 10" by 8" photograph of our wolves and will be helping with our aims of wolf conservation and spreading the truth about this beautiful, social animal.
A list of dates of upcoming walks is available on our "What's On" page. Note that the day usually finishes around 4PM.
Note: To attend a walk you will need to be fit enough to walk about an hour and a half at a leisurely pace unaided ( e.g without walking sticks.) However, if you have any questions, please contact us using the "Contact" link in the menu above.
The minimum age for walkers is 12, if accompanied by adult 18+.