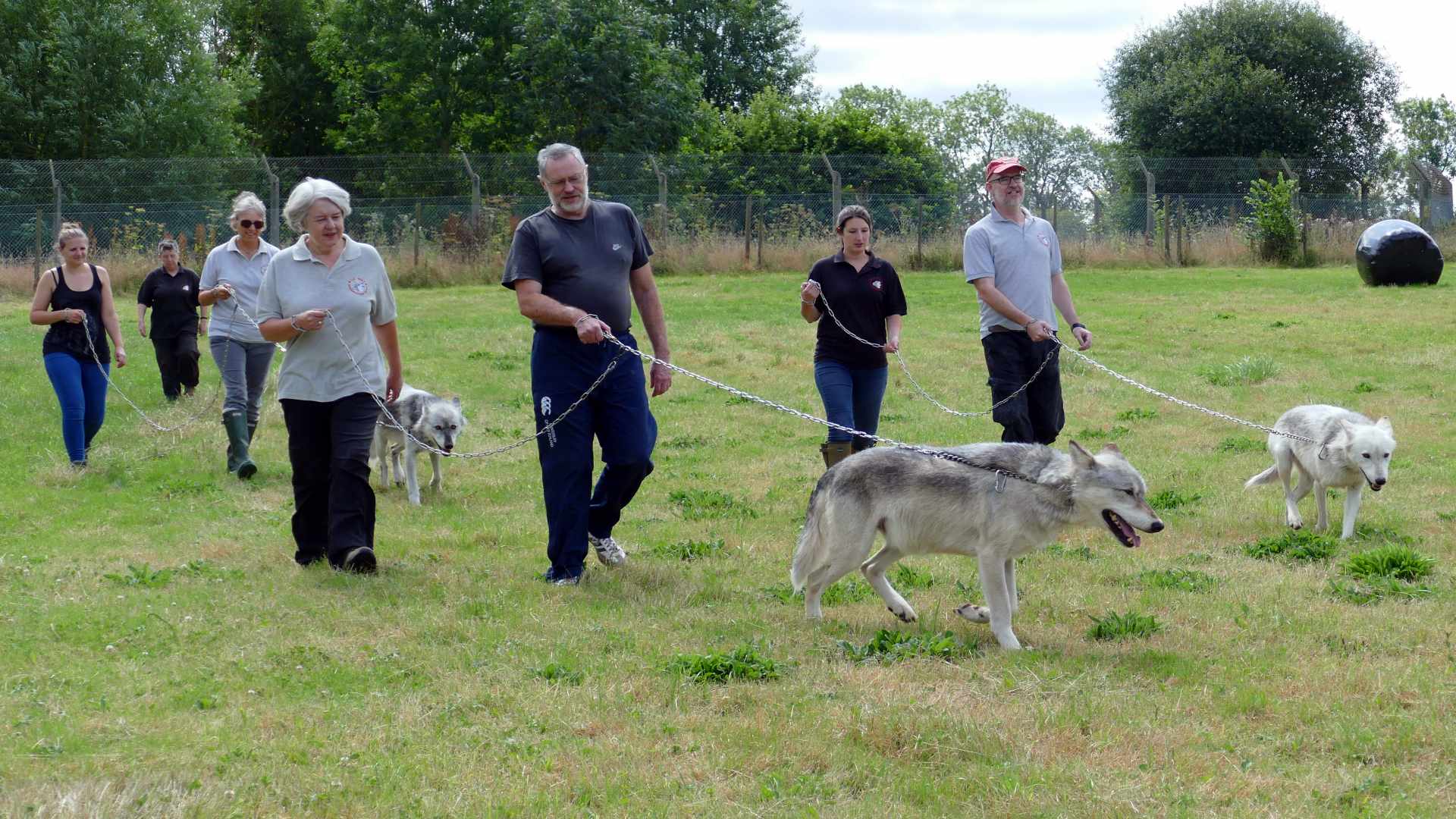 28th July 2019
What a relief for everyone today that the rain had stopped and at last it wasn't overbearingly hot!

Motomo and Mai's enclosure is now very overgrown, so some of us stayed behind to see if they can tempt Mai and Motomo into the Arctics' enclosure while we had them out on their walk.

Massak, Pukak and Sikko were keen to get out. We didn't even go to the new bridge to avoid any distractions that may have stopped Mai and Motomo from moving. All 3 had a very enjoyable walk and were extremely well behaved. They do like their walks a lot more now they only walk with the people they know at the Trust.

They are now looking very sleek in their summer coats but are still shedding a lot of old guard hairs. This means that the new ones will be in tip top condition and offer good insulation throughout the winter months.

Before returning we heard that Motomo who is our unsocialised wolf, although he had gone through the tractor gates into the Arctic's enclosure, he knows exactly what is going on and came straight back out again!.. We walked the arctic wolves close to the barrier to try and entice them back in. Mai was keen as she wanted to fence run with them and Motomo did follow, with one eye on the gates… Needless to say, he trotted straight back again. We placed the Arctics in the holding area and Mai and Motomo will be moved in a day or so. Once they are in there, the grass will be cut and then all the wolves can go back to their homes.

After a brief liquid refreshment break, we took out Nuka, Tala and Tundra, also all keen to get out. They made a point of greeting those of us not handling to begin with, which is such a treat to have them look straight into your eyes and give you the wolf greeting – usually a few licks! They then marched everyone off at a fair pace. On the way back into the trust, we tried to lure Mai and Motomo again with the Beenhams, but Motomo was having none of it!

After lunch we all set to with a variety of gardening tools, strimming and cutting more vegetation down.

We then cleared up and fed all of the wolves and despite the heat recently, they all ate well.

I left early so didn't go in with the Beenhams, but I'm sure if the others did, they all left with smiles on their faces.

Another fabulous day with the magnificent wolves.
Update and photos by Eve.
---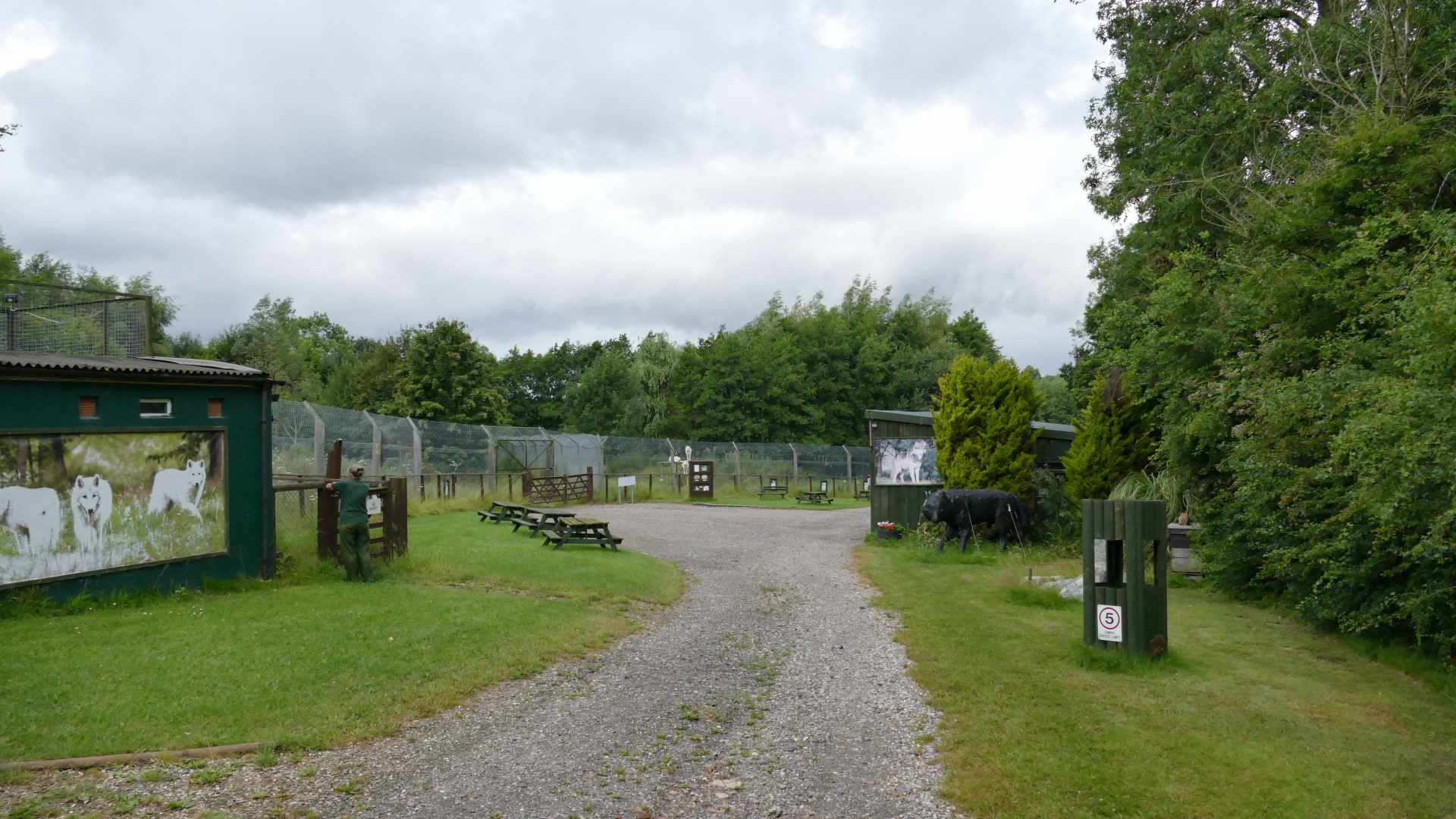 20th July 2019
Summer Breeze


Storms crossed the south of England during the early hours of Saturday and the remnants were lingering as the volunteers arrived at the Trust - everything was soaking! It's July, though, and things don't stay wet for long, especially with a summer breeze blowing.

Before the Beenhams' walk, a few of us went out to get some photos. The wolves' fur becomes spiky in the rain and this can be seen in the photos following this post. However, sometimes the wolves came a bit too close for photos (or rather the sort of photo you might find in a calendar). Mosi and Torak, for example, came up for a fuss through the fence. Both Mosi and her sister Mai are still moulting, something which seems to be common in older wolves.

Mai also came up for some attention, as did the Arctics. Indeed, the Arctics were so keen for a fuss they kept jostling with each other. It's interesting to see the wolves up-close in their summer coats, as they show up as the lean, muscular animals they are - and the Arctics, despite having lost their underfur, still appear as remarkably large wolves. After saying hello, the Arctics posed beautifully for us and remained that way as we left to prepare for the Beenham walk.

The Beenhams were eager to come out, but not very eager to cross the new bridge: they approached it warily, then decided they'd rather avoid it for the time being. We varied our route slightly for the rest of the walk, with Tala digging into Mai's hole (in the top field) and Nuka, as ever, being fascinated by the tractor nearby. The walk alternated between warm and humid (in the sunnier bits) and cooler and fresher (in the shade, with the breeze blowing). The wolves, sensibly, made beelines for the shady areas and we stopped a few times to give them time to catch their breath. Towards the end of the walk the wolves waded into the stream: for a wolf, running water over the paws is a great way to cool down!

After a break for lunch, we took Mai out for a walk. She trotted happily along the long end of the top field, then stopped for a fuss. A good deal of her loose underfur was removed, after which she did an about-turn and headed straight back to Motomo.

We then prepared lunch for the wolves, while keeping an eye out for the red kite that tries to grab Motomo's food. The kite didn't get any morsels this time, but he certainly tried! The day finished, as usual, with us going into the Beenhams' enclosure. A mixture of rubbing (from the wolves) and stroking (for the wolves) went on, before the wolves wandered off and we all left for home.
Video by Eve.
---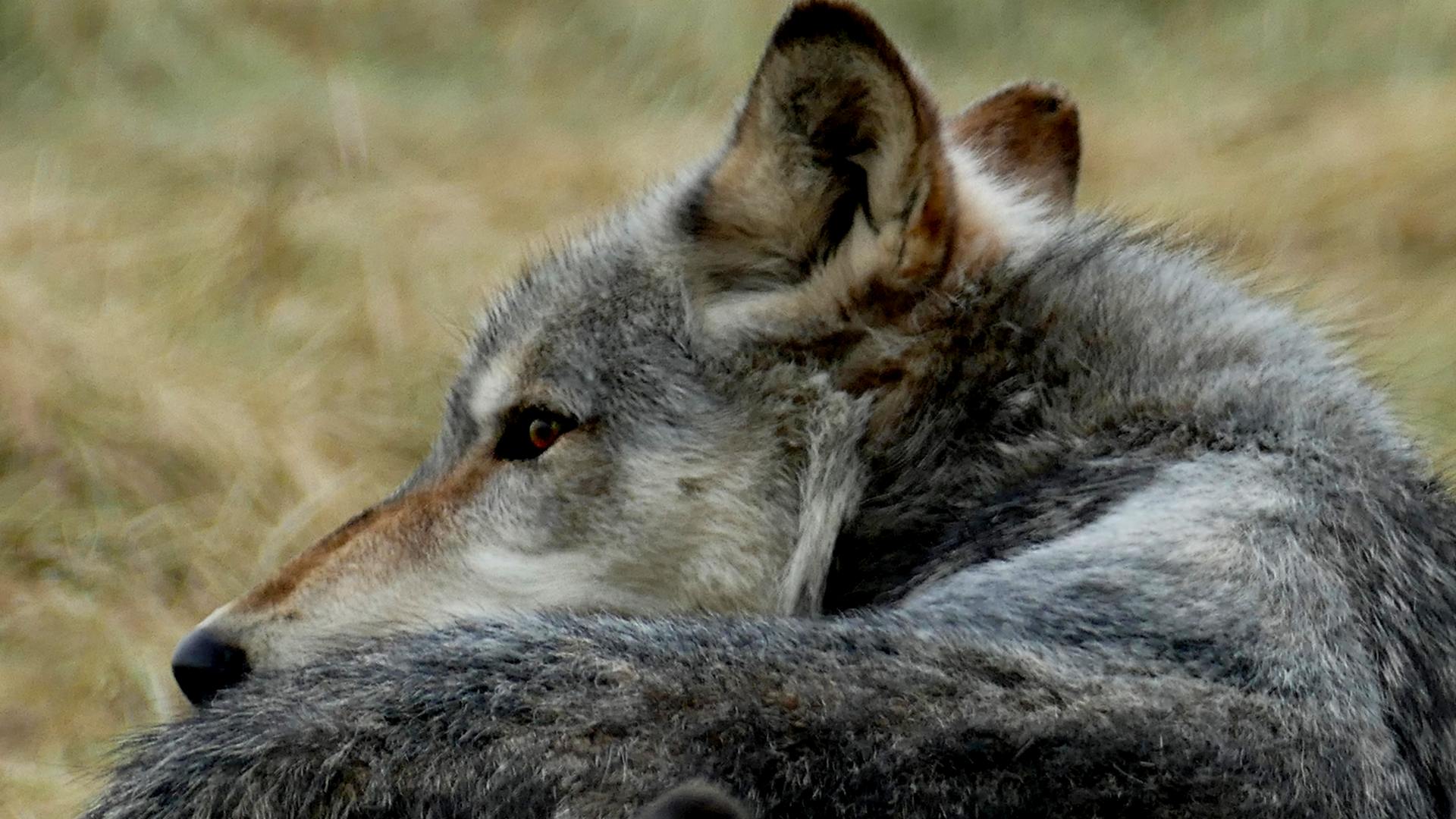 14th July 2019
Thankfully today was a lot cooler as we had 4 walks with the wolves to do.

First out were the Arctics and all 3 were very keen to get out, although once collared up, Massak took his time coming out of the hard standing. He behaved as if he hadn't been out that way before. He soon got over himself and we set off with all 3 sniffing and scenting along the way. Sikko was very keen to try and find anything to carry around to taunt her brothers but we managed to steer her away from any suspicious objects!

We came back over the new bridge successfully with Massak and Sikko but Pukak was having none of it! We all had to go back over the bridge to collect hm and come back into the trust via another gate that they all have no problem with.

Mosi and Torak came out next. They'd been hanging around the fence all morning as they had seen their handlers so knew a walk was possible. Mai came out for a while as well, not with Mosi and Torak though! She is more keen to spend a bit more time out now her hormone levels have dropped back to normal levels.

We then set off with the Beenhams who thoroughly enjoyed their walk as usual. We came across Lara who has known them since they were born and it was great to see the wolves greeting her.

The food having been prepared, we all fed the wolves who are eating more lately. We spent some time in with Nuka, Tala and Tundra afterwards. We were greeted with licks and head rubs followed by them laying upside down and expecting their human slaves to give them massages of course we did! We could see and feel how full their bellies were after their food today.

After locking up and securing the site, we all went on our way with a smile, grateful for another wonderful day with the wolves.
Write-up and photos by Eve
---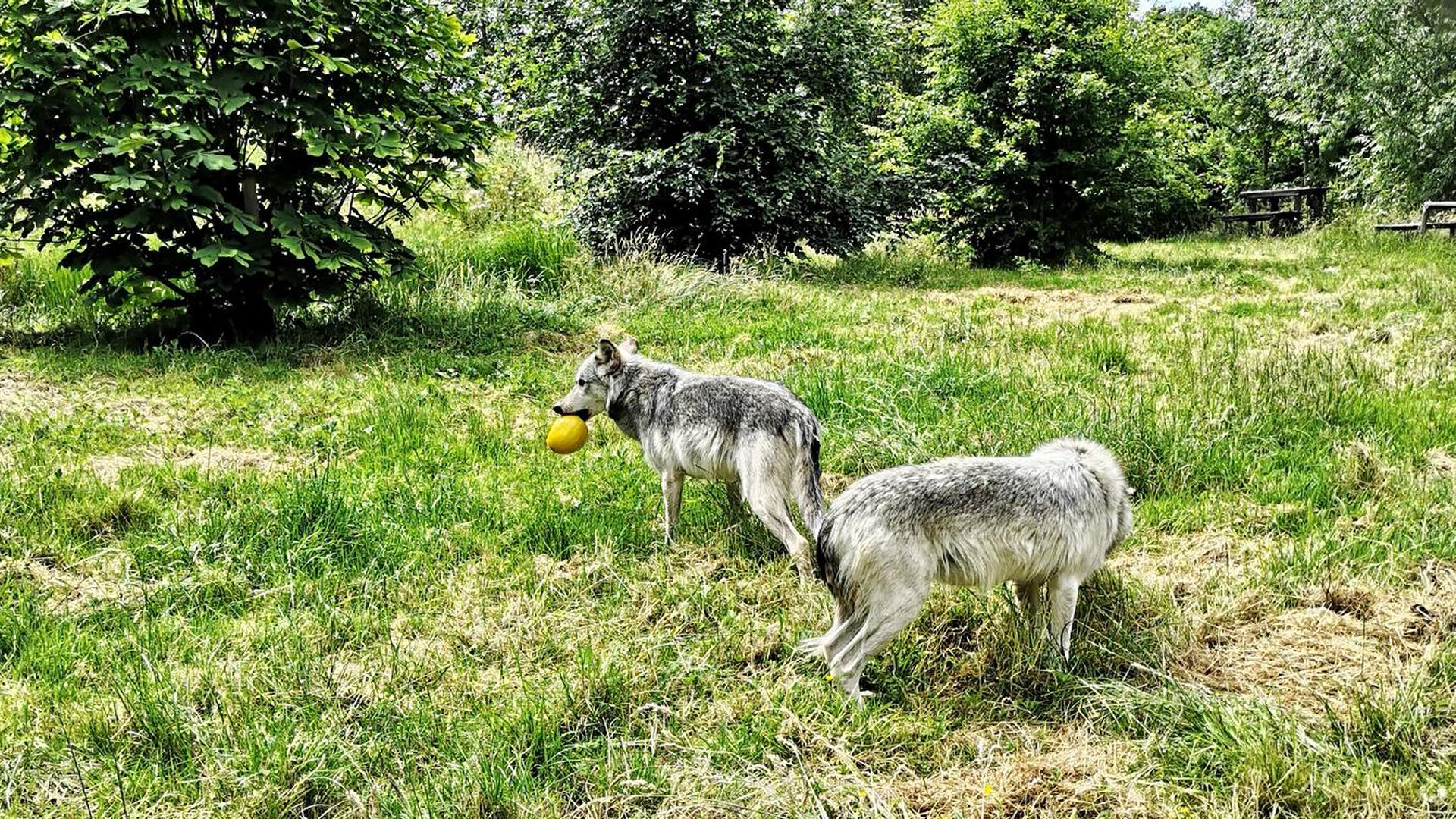 6th July 2019
It was a sunny morning as the volunteers arrived, with the forecast promising a cloudy day to come. As usual, Mosi greeted the arrivals and before long we were heading out into the sunshine with the Beenhams. At this time of year the sun is strong, and the wolves stopped several times in shady areas for a bit of a fuss.

The walk was largely uneventful until we were passing by one of the wheat fields: Tala found a tennis ball, much to her delight, and proudly strutted along with it in her jaws. She carried it for a while, then decided to try and bury it amongst the trees next to the field (all the time with Nuka and Tundra being most keen to acquire it from her). Tala couldn't dent the rock-solid ground, though, and ended up leaving it amongst the wheat. I'm sure she'll remember where she left it, but so too will the other wolves!

On the way back we went along the wooded passageway leading to the new bridge. The wolves still won't cross the bridge, but they did at least get close to it from the other side. It hopefully won't be long before they go back to crossing it.

With the walk completed, the volunteers split up in order to do some work. There were various tasks: the ever-present strimming of weeds, the hand-pulling of weeds elsewhere, gutter clearances, water trough filling and fiddling around with the webcam in the pole barn. For the first time in many a month, the webcam over Mai and Motomo's enclosure now shows pictures during the daytime, as opposed to a plain white image!

After lunch (for us and the wolves), we went in with the Beenhams. Nuka was happy to flop on his side for a belly-rub, while his sisters were up to their usual antics, with Tundra rubbing herself gleefully over everyone. When I spent some time with Nuka he was eyeing me up, ready for his game of "Jack in the Box" - but it wasn't to be, as his sisters decided to have a squabble right next to us. Nuka wandered off elsewhere for some peace and quiet as a result.

Nuka was the last wolf to leave us and when he did we said our goodbyes and headed for home.
---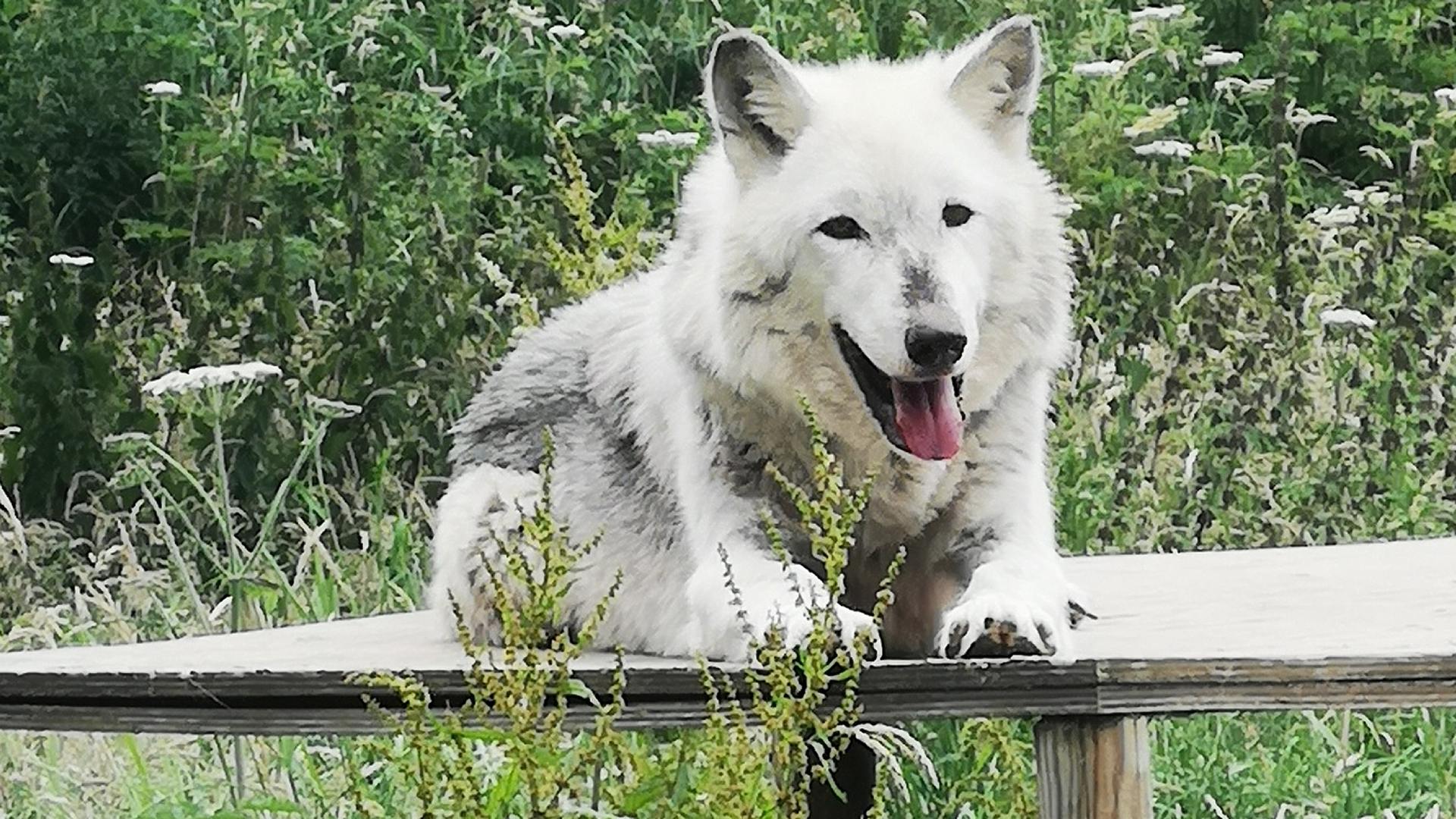 A summer's day
30th June 2019
Just 7 volunteers working today. The summer is always quieter as we compete with holidays and festivals that volunteers like to attend. As long as we have enough to take the wolves out it doesn't matter. The bridge that went through into the log field has been repaired and the Beenhams have taken a dislike to it. Wolves can be sensitive to the slightest change that we would not even notice. At the moment they are refusing to walk through there so we are taking them around the back of the trust and then past the enclosures of the other wolves. If you needed waking up on a Sunday morning this will do it as they can become quite feisty with each other at this point. Tundra will try to dominate Tala and then Nuka steps in to tell Tundra off. This is due to the frustration of not being able to get to the other wolves. Once into the next field it is all back to normal and we enjoy a couple of hours walking. The weather thankfully much cooler than the day before.

Once the Beenhams have finished we then took their Mum Mai for a short walk. She doesn't want to leave Motomo for too long at the moment. We deliberately took her to the bridge as she has no issues there and she went straight through. The hope is that as wolves learn from each other they will see her going through and realise there is no danger. They will also be able to smell wolf paw pads rather than new wood.

After the walks we got their food ready. They had been left Melon today for enrichment. We always like to mix up the way they are fed to prevent them getting bored. The melons were scooped out and then stuffed with tuna, sausage meat and corned beef.

Most of the wolves just grabbed the melon and extracted the bits inside. Giving them one each is guaranteed to ensure there is a little bit of competition as they do like to be protective of their prize. As we left the Arctic enclosure we could hear much growling and jaw snapping. Sikko did not want to share.

Tundra was the only wolf I spotted who was actually munching the melon itself and she seemed to be enjoying it. After food it was time to spend a bit of time with the wolves although Nuka was more interested in going for a dip in the pond.

Another great day.

Photos and write-up by Cammie.
---