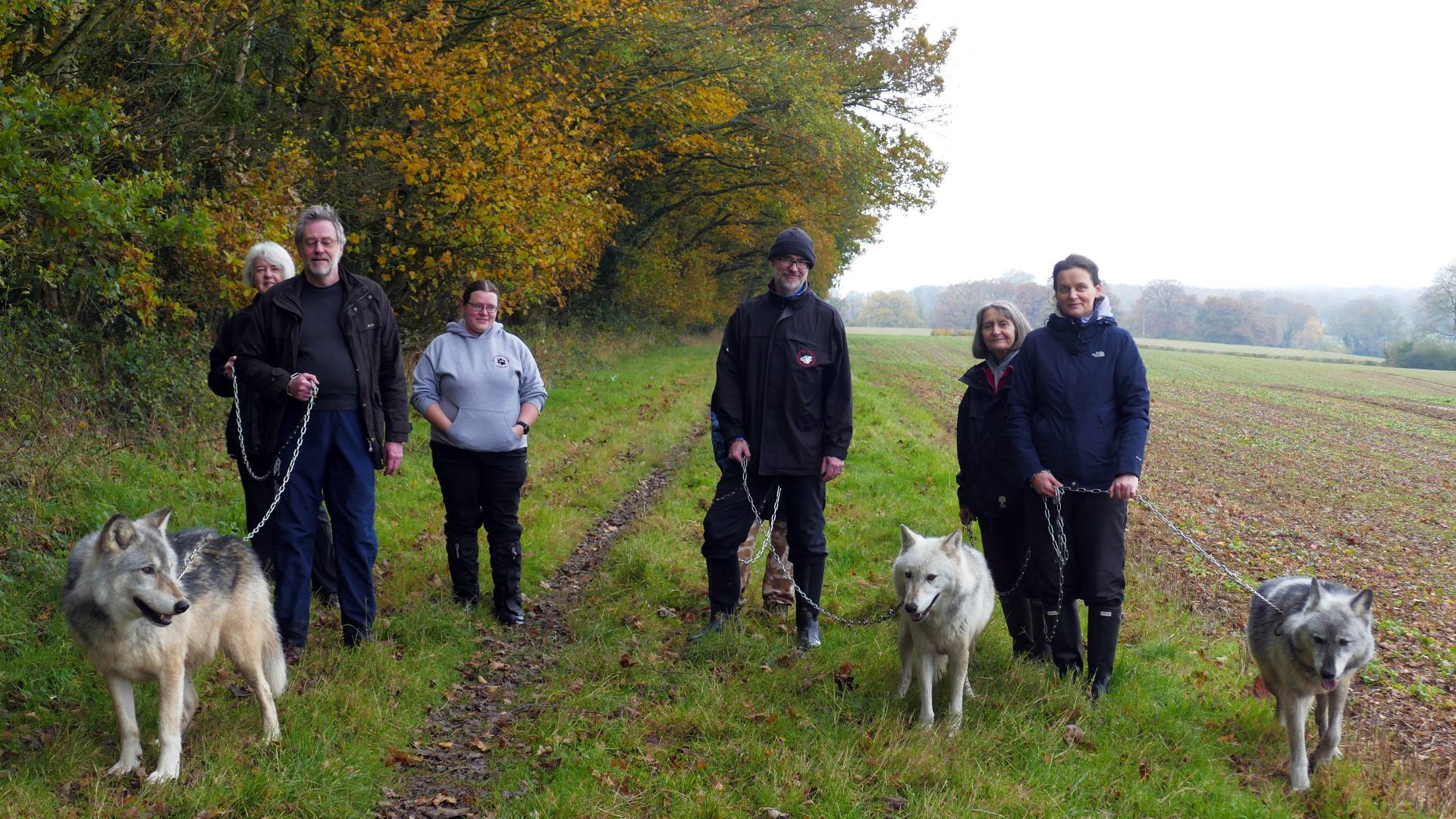 17th November 2019
We had lots of volunteers arriving this morning, despite a raw 3 degrees.
Thankfully, there was no rain upon arrival, so we were keen to get started.
Sundays are Arctic walks and then The Beenhams and with the right handlers, Mai and then Mosi and Torak, who were already investigating who was around and anticipating a walk.

The Senior handlers went down to the Arctic enclosure to collar them up while the rest of us finished off out hot drinks and tried to figure out how many layers of clothing to wear!
All 3 came out and off we went. There was a lot of scenting and vague attempts to roll in dubious substances, but mostly none got a really good roll going. Massak was quite assertive to begin with and then settled down. You could see their behaviour is a little different when they are more hands-free volunteers.
We went into the field behind the enclosure to finish the walk and all 3 went into the stream for a drink and paddle. Sikko who had a particularly muddy undercarriage today did not was the mud off though. They also went up onto the picnic table and bench for some fusses that they really seemed to want a lot of today.
The sun shone for the whole walk so we all warmed up nicely!

By the time we were out with the Beenhams, it had clouded over but we were taken off at a fast pace by all 3, so hats started being removed. Today we took them over the new bridge o the way out and none of them took any interest in it . Now the bridge can be part of their walk again as they have been coming back into the trust over it for a couple of months now.
Tala put the brakes on as we left the first field and everyone had to hang around until she decided she'd move on.
Nuka and Tala enjoyed rolling around in the usual smelly substance, so we had that wafting around along the way.
They all went into the stream today and Tundra and Tala jumped up on the table for a fuss. Tundra decided my freshly washed hair needed a serious head and neck massage form her, so I was gratefully she had not rolled in anything today.

After the walk, we took the tortoises out for a romp on the grass, where they soon found clover and dandelion leaves to munch on. We put them back into their cosy pen and prepared fresh food for them, which promptly got walked through by one of them.
While some volunteers prepared the wolves food, the rest took Torak and Mosi out around the back field of the enclosures. They were happy to charge around and Mosi watched as a hare run off across the field. As with the other wolves, they both found something smelly to roll around in and watching their facial expressions is always a treat.
We had a look in their bedding area and tidied it all up for them. Both Mosi and Torak went straight in there after we left it to see what had been interfered with. I could hear Mosi pulling all the straw onto the floor again. Oh well, we did our best!

We also took Mai out to the back field who has a magnificent winter tail this year! Motomo watched her progress and raced back down to the gate when she suddenly turned around mid-march and headed back to Motomo. As usual, keen to come out and keen to go back!
We all fed the wolves, noting down who was hungry or very hungry.
Due to M4 closures, we all left without going into the Beenham's enclosure so people could get home. We all thoroughly enjoyed another day out with the wolves and they seemed to enjoy themselves too.
Update and some photos by Eve, some photos by Sue.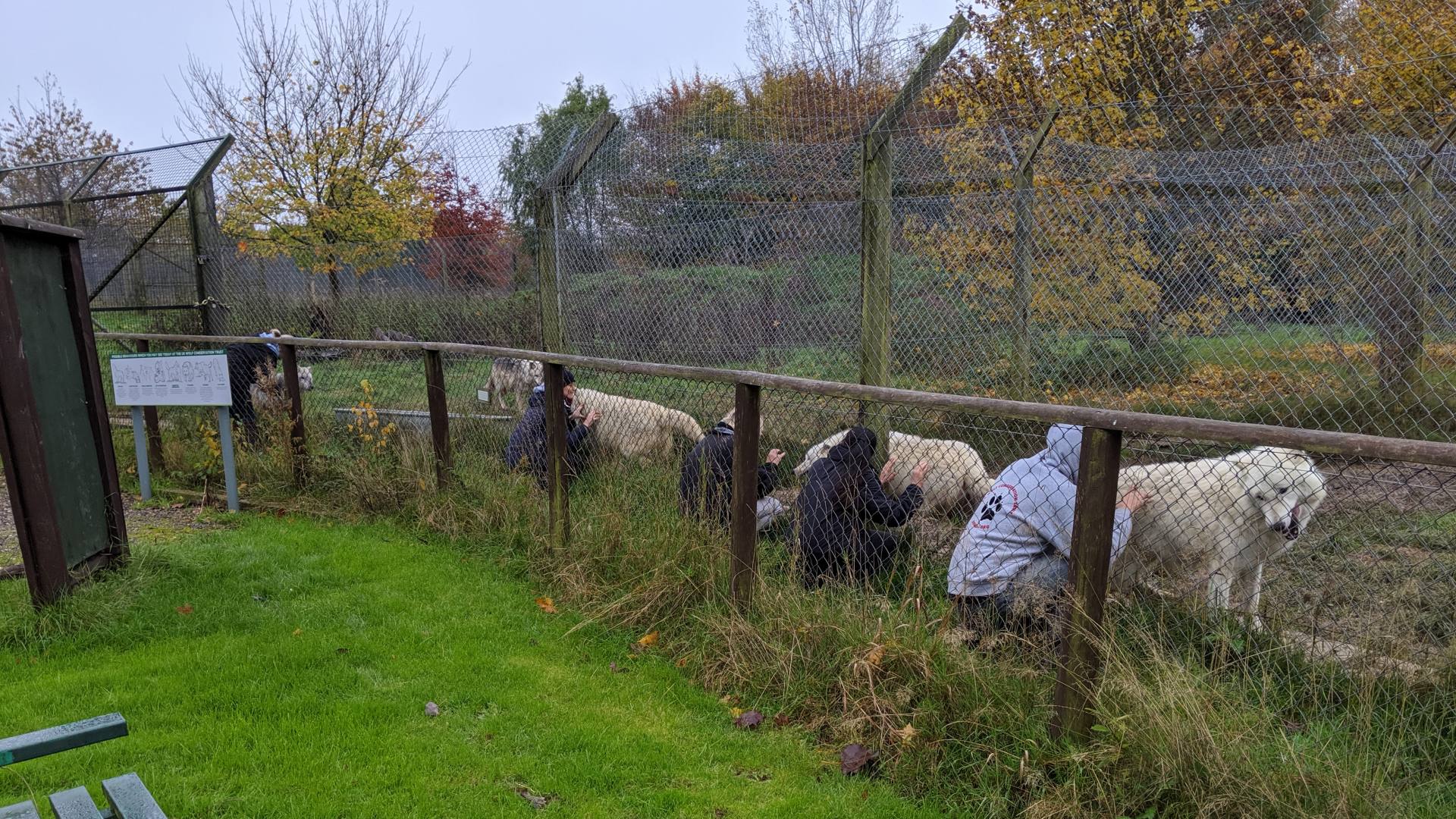 9th November 2019
An overcast gloomy morning greeted the volunteers as they arrived on Saturday. With heavy rain in the forecast, it wasn't long before the Beenhams were taken out for a walk - the idea being to get as much done as possible before the rain arrived.

The Beenhams were eager to come out and set a brisk pace as they trotted around the fields, with a minimum of sniffing and rolling this time around. They did eventually slow down by the time we reached the log field (where they used to pose for photos); they decided they'd like a bit of fuss and attention, with the volunteers only too happy to oblige. This didn't last for long, though, with Tala deciding to carry on and the other wolves folloiwng along. They crossed the new bridge and headed into the field near the Bourne. Down by the stream Tundra and Tala had a bit of a grumble with each other, with Nuka stepping in between them to calm things down again. It's a reminder that breeding season (with its raised hormone levels) is around the corner!

The walk finished soon after and, with things still staying dry, we tried to take Mai out for a walk. She came onto the hard-standing, eager as ever, then as we set off it started to rain. The other wolves howled and you could see Mai was conflicted: she wanted to go on a walk, but also wanted to be back with Motomo. After sniffing and scenting, she made her mind up, whirled around and strode purposefully back to her enclosure... the whole thing having taken less than five minutes.

By now it was chucking down with rain and, after a quick lunch, we prepared the food for the wolves. This time around Mosi's pills were hidden in some hotdog chunks and she pretty much inhaled those! Torak got a hotdog too, so as not to be left out, then they both had their regular food: beef, chicken and paunch (for Mosi only, as Torak doesn't like it). The other wolves were keen for their food, too, resulting in empty buckets all round.

After doing the washing-up, we decided to go in briefly with the Beenhams. We don't usually go in with them if it's pouring, but they still came over and asked for a fuss. Tala didn't hang around, though, and as with last winter she stayed away from her sister. Tundra, meanwhile, rubbed herself ecstatically over one of our volunteers' hoodies, while Nuka flopped over for a (soggy) belly rub. We didn't linger, though, as the rain was really coming down; after a few minutes we said goodbye to the wolves, then headed off our various ways ourselves, soggy but happy.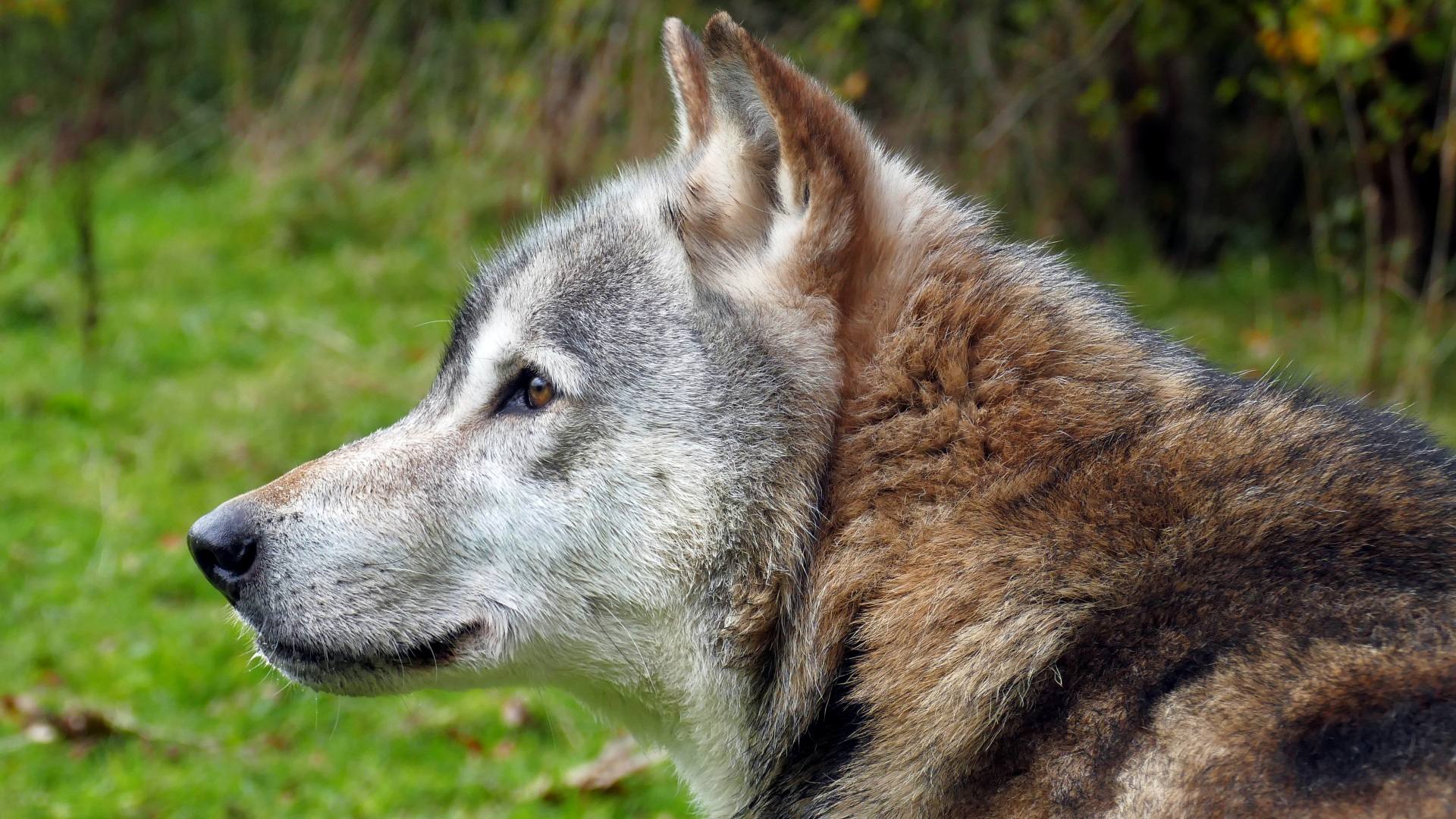 3rd November 2019
We all arrived at 10am, thankful it wasn't raining.
After hot drinks and a catch up, we were relieved to see we had just enough handlers to take the Arctic wolves out for an enrichment walk. None of the wolves need to go out for a walk for exercise, but they do enjoy them and it is good enrichment for them.

The main Arctic wolves' handlers went down to collar up Massak, Pukak and Sikko for their walk. Before this, they go to the Beenham's enclosure and get them into their holding area, so they are ready for their walk a bit later.
We could see all 3 Arctic's sitting waiting by their hard standing gate for the handlers to come and get them, so we could see they were keen to come out.
Massak was displaying his very fluffy tail that was straight up in the air and seemed to tell Pukak off as we walked around the fields, for nothing we could see. It is likely their hormone levels are changing now as we head into Winter. Sikko found a large deposit that she rolled in. To begin with it did just look like mud, but as the walk progressed and all 3 had rolled in it, there was a distinct aroma!
Once we put them back into their enclosure, Linda did wash whatever it was off Sikko's chain.

I went to say hi to Mosi and Torak who were keen to see if I was going to take them out. Mosi stayed for a fuss, but Torak soon realised I was not one of their handlers and walked off! Mosi stayed for a while enjoying a fuss and then with no leads visible, also walked off.
We had a quick break before taking the Beenhams out. With the days shorter now, we need to get on with the walks to ensure all the work is completed in time before dusk falls. We won't go into their enclosure at dusk as the wolves become livelier at dawn and dusk, resulting in them trying to play tag with us.
All 3 were very keen to come out with Tundra charging along ahead of the others. I noticed she was keeping an eye on Tala, so it seems the alphas are making sure the lower ranking wolves in their packs are behaving themselves! They had a good scenting session where the Arctics had been on their walk. When we got to the stream in the bottom field, Nuka and Tundra went in, digging up the bottom and Nuka taking gulps of water. We then stopped for a fuss with Nuka flopping over with his big feet in the air with what looked like a smile on this face. He really is the most remarkable adult male wolf. Once we'd scratched and massaged all 3 for a while, they stood up and we carried on with their walk.
Once back in their enclosure they all trotted off to see the Arctics. By now Mosi and Torak were checking us all out, expecting to be taken out, which of course we obliged once we had another drink and sit down, having walked nearly 7 kms already today.

We all laughed as Mosi, forever impatient, once the lock on the gate to the hard standing was opened, pulled the gate open herself with her front paw and marched onto the hard standing, pawing at Sue, keen to get out on the walk.
Once in the back field, she found something nice and smelly to roll in while Torak carried on regardless. She took so long rolling around that he came back and joined in, not to be left out. All the other wolves watched with interest and a howling session took place as the pair walked about not taking notice of the howls or us. Craig and Giuseppe went into their enclosure while we were out to pull over a small tree that was badly damaged by high winds the other day. Once back inside, both Mosi and Torak went over to investigate the tree now laying down in their enclosure, left there for some enrichment for them.

We took Mai out who was keen to go, really walking along at a fast pace. This was our 4th walk of the day and there were quite a lot of tired legs by then. Mai hesitated at the entrance to the first field as if she was going to go back, but carried on into the field. It was short lived as she stalked purposefully over to the other gate to return home to the howling Motomo. Once inside, Mai raced over to the Arctics with Motomo close on her heels and all of them with tails waving raced up and down the fence together. This has become a ritual with all wolves appearing to thoroughly enjoy themselves.

Meanwhile, the tortoises had been fed and the wolves' food prepared so we all took a bucket and went off to feed them. As it has been a long day and the sky was purple, we cleared up and left for the day having thoroughly enjoyed ourselves with the wonderful wolves again.
Update and photos by Eve.