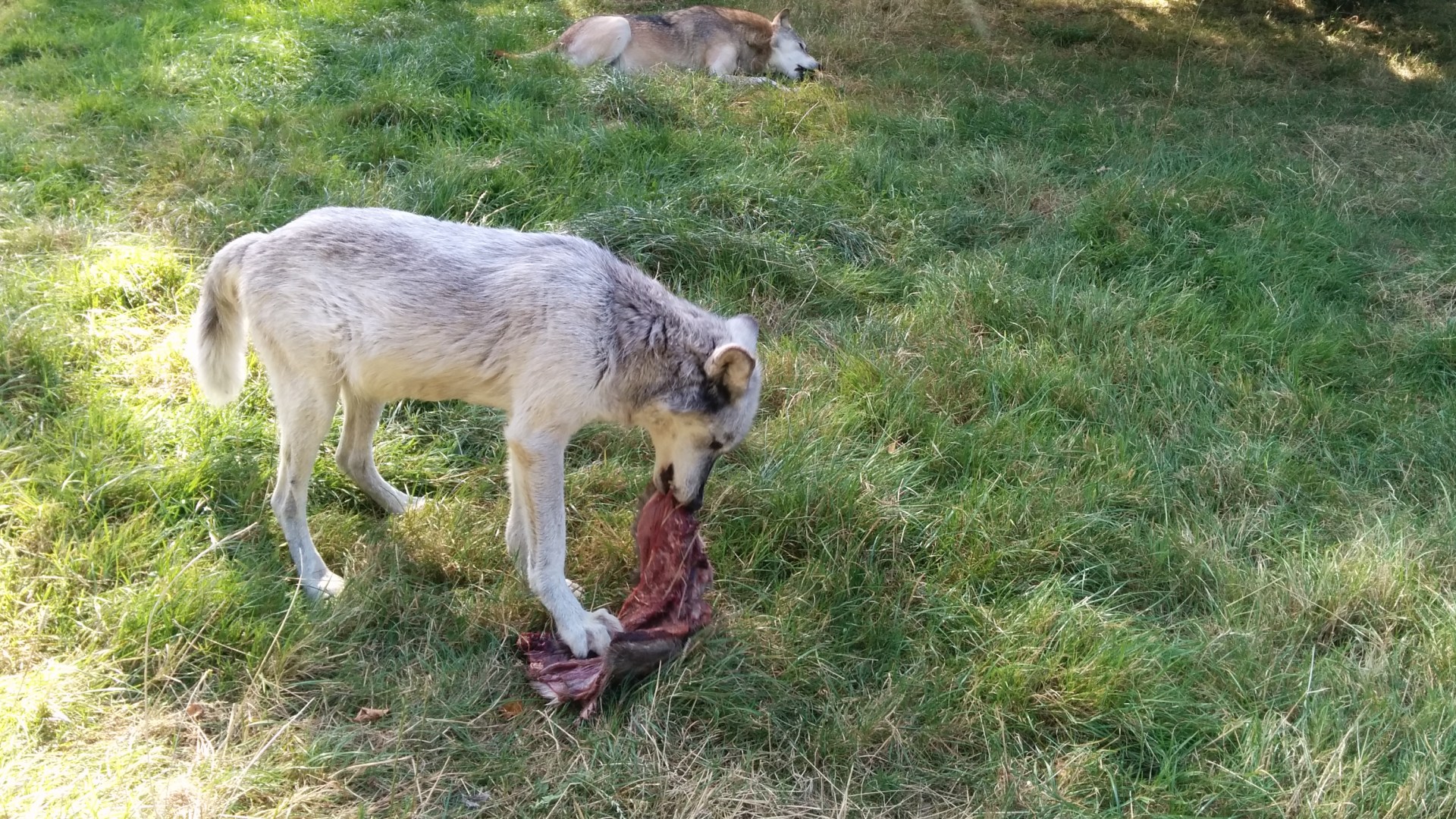 14th September 2019
Fun in the sun
Saturday was a bright, sunny and warm day, more like summer than autumn. As everyone arrived, plans were drawn up for what would be a full day of wolf activities.

The first event, as usual, was taking the Beenhams out for a walk. They're starting to grow their winter coats and their tails have become noticeably fluffier - they always look a bit like bottle brushes in summer! The wolves had a leisurely walk and this time Tala won the competition for "worst smell", having rolled in something truly stinky. Towards the end of the walk the route happened to take them past Mosi's enclosure and it's here that you're given a swift reminder of the fact they're wolves... Tala was itching to get to Mosi and the feeling was, I suspect, mutual. There was much grumbling and Tundra decided to join in too, just to add extra spice. Once we'd got past the enclosure the wolves returned to their usual stoic selves and we completed their walk without further issues.

We went to see if Mai wanted to come out. She did, so we had a short walk through the very pleasant "bluebell woods" - a path amongst the trees that border the area immediately east of the Trust. We went along the log field where the Beenhams used to pose, then across the new bridge. At that point Mai decided she really wanted to get back to Motomo and she set off determinedly towards him. She was duly delivered back to her packmate and Motomo would have been pleased to see her. As with last week, Motomo was able to keep an eye on her during the walk and he didn't howl as much as usual while she was out.

Mosi and Torak were next on the agenda. Mosi is on medication to reduce swelling on her left foreleg and it's been zonking her out somewhat. The dose was halved by the vet last week and the results have been good. Mosi came out for a short walk with Torak and showed a good deal of interest in the various sights and scents around the back field, including wanting to go down to the area where we had badgers some years ago. She set a brisk old pace and seemed to thoroughly enjoy the experience.

The wolves then had their lunch, which for a change was largely comprised of venison and rabbit. This went down well with the wolves, as did the "ice lollies" they were given. These were blocks of ice with bits of meat and eggs mixed in, as well as some blood. The air was filled with the sound of scraping and chomping as the wolves worked their way through the ice to the treats within! As a bonus for her, Mosi was given one of our hessian sacks filled with straw and various scents - she enjoyed that, too.

There was time for some upkeep of the site, which included some pruning of over-enthusiastic shrubs and trees adjacent to the enclosures. The wolves' bedding was replenished too, much to Mosi's intrigue (she stood and watched throughout as the sweeping and straw-laying took place).

The last bit of the day was going in with the Beenhams. Tundra did her neck-rubbing trick, Tala tried to sneak in some fuss and attention without Tundra noticing and Nuka, after saying hello, flopped on his side for some belly rubs. As I was stroking him I could see an orange eye watching me out of the corner of my eye. Suspecting he might be plotting something, I carried on rubbing him and he raised a leg or two to allow better access. Torn as he was between fuss and fun, he eventually succumbed to the latter. All of a sudden he was up on his feet and "bop" - another round of his "Jack in the Box" game. He then settled down for another round and this time it was Eve who was the recipient of his (gentle) "bop". Well-satisfied, he ran off with his entire rear end wagging! I've a strong feeling he was trying to get us to chase him, but of course we couldn't.

Tala and Tundra stayed around for some final fussing, then we headed out and then on our various ways home, no doubt reflecting on another fun day.