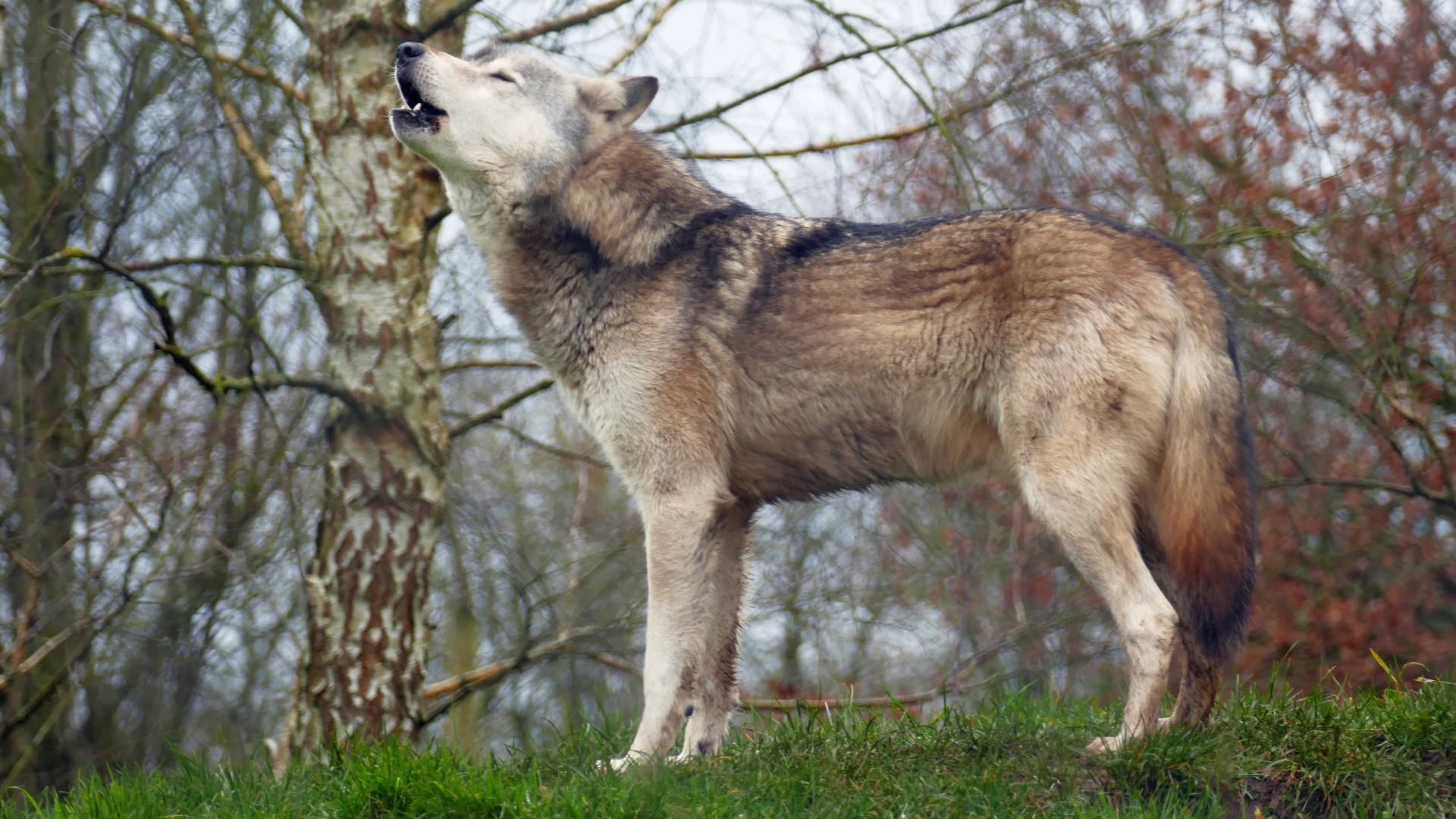 16th February 2020
We all arrived at the Trust and checked for any new fallen trees around the enclosures, but all was well.

Mosi's rock is actually a large bone! She has abandoned it now and along with Torak, who was softly howling, they were checking who was here and are they going out for a walk!

We all got ready for the first walk, donning wellies and waterproofs due to the unpredictable weather. For a change, we decided to take the Beenhams out first.

All three came zooming out and set off at a fast pace, making it hard for us handlers to keep upright in all the slippery mud. The wind picked up along the way and the wolves surged ahead. The wind was behind us and Nuka kept looking behind him as if to say where's that coming from! Once we turned the corner at the top field, the wind died and so did the wolves speed! The rest of the walk was more sedate. Nuka of course found something smelly to roll in, then added to it with sheep deposits later.

After we'd had a quick drink and removed some clothing layers after the vigourous walk, we took the Arctics out. They were very impatiendt to come out as usually we take them out first. Evidence of their excitement was extensively displayed due to Sue and Cammie's jackets being covered in mud.
All 3 scented everywhere on the walk, maybe due to not having been out for some weeks because of their breeding season.
Massak got a bit spooked by a huge gust of wind but soon recovered his composure. All of them had a growling session which is amazing to hear up close.

It was decided to leave Torak and Mosi in their enclosure for another week or so for Torak's hormone levels to subside.

We prepared the tortoises' food and fed them. We fed the wolves and they turned their noses up at quail... Pheasant is fine thanks, but none of them are interested in quails.

To avoid Tala getting told off by Tundra, we didn't go into their enclosure today. As we all left, having had a great but somewhat wet and windy day, the sun came out!

Writeup and photos by Eve.
Mosi and Torak, Mai and Motmo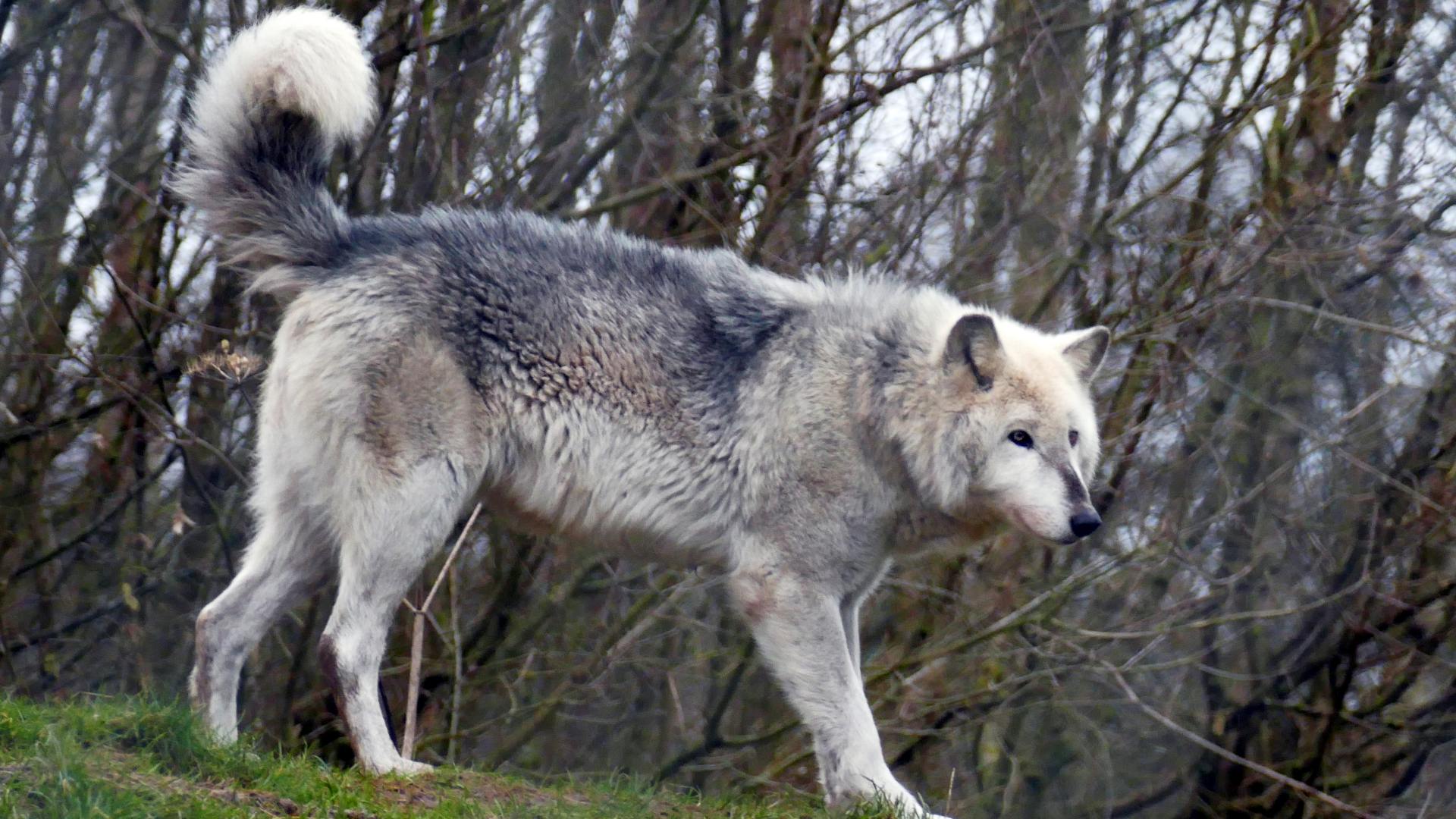 16th February 2020
We arrived on site ready to take the wolves out. As we got to the observation room we were immediately struck by Mosi's odd behaviour. We are now in wolves traditional breeding season and the female wolves in particular sometimes attach themselves to a certain item and behave as if it is a cub to mother. In previous years I recall Mai behaving in this way with a chicken carcass which had been meant for her to eat. Luckily Mosi's new favourite item is a rock which is not going to smell as bad as a chicken if she keeps this up. Torak was displaying typical wolf behaviour in that he was circling around pretending he was not interested but getting closer on each circle. She would ignore him until he got to a certain distance and he was then met with flat ears and a bared set of teeth. He would nonchalantly move away a bit and then start the whole process again. They are very amusing to watch.

Due to the breeding season it was only the Beenhams coming out for a walk. We had already decided it was going to be a quick one due to the arrival of storm Dennis and the fact the some volunteers have long journeys. The walk had been cancelled last weekend due to bad weather so the Beenhams were raring to go. As typical at this time of the year the lower ranking wolves are quite often pinned down by the other wolves and Tala had mud all caked into her fur. It had gone a but spiky and she looked as if she was sporting a new punk look. A fast pace was set which was not easy as the ground is very wet and slippy at the moment. All went to plan until we arrived at the top field where there are sheep grazing. They are fenced off but it is always interesting watching the sheep behaviour. The wolves do not always take a lot of notice of the sheep however Tala was wanting to go a bit closer and observe them. The sheep all round up together and then a few brave ones take the front lead and they all approached the fence. Nothing more can happen as they are kept apart.

The next bit of excitement was when we came through the field into the main trust enclosures. Where the public paths are we always have a look out ahead to ensure there are no dogs off lead. However coming back up the steps into the trust it is private property and a blind corner so we were surprised to suddenly be facing Tsa's little dog Peanut. Lots of barking from Peanut (a Jack Russell) and we quickly took the wolves back down the steps into the field and got the gate shut between them. I bet he was proud that he had seen 3 wolves off his property. Tsa was with him but had not realised we had the wolves out.

We then fed all the wolves and set off home before the worst of the weather hit.

Writeup by Cammie, photos by Eve.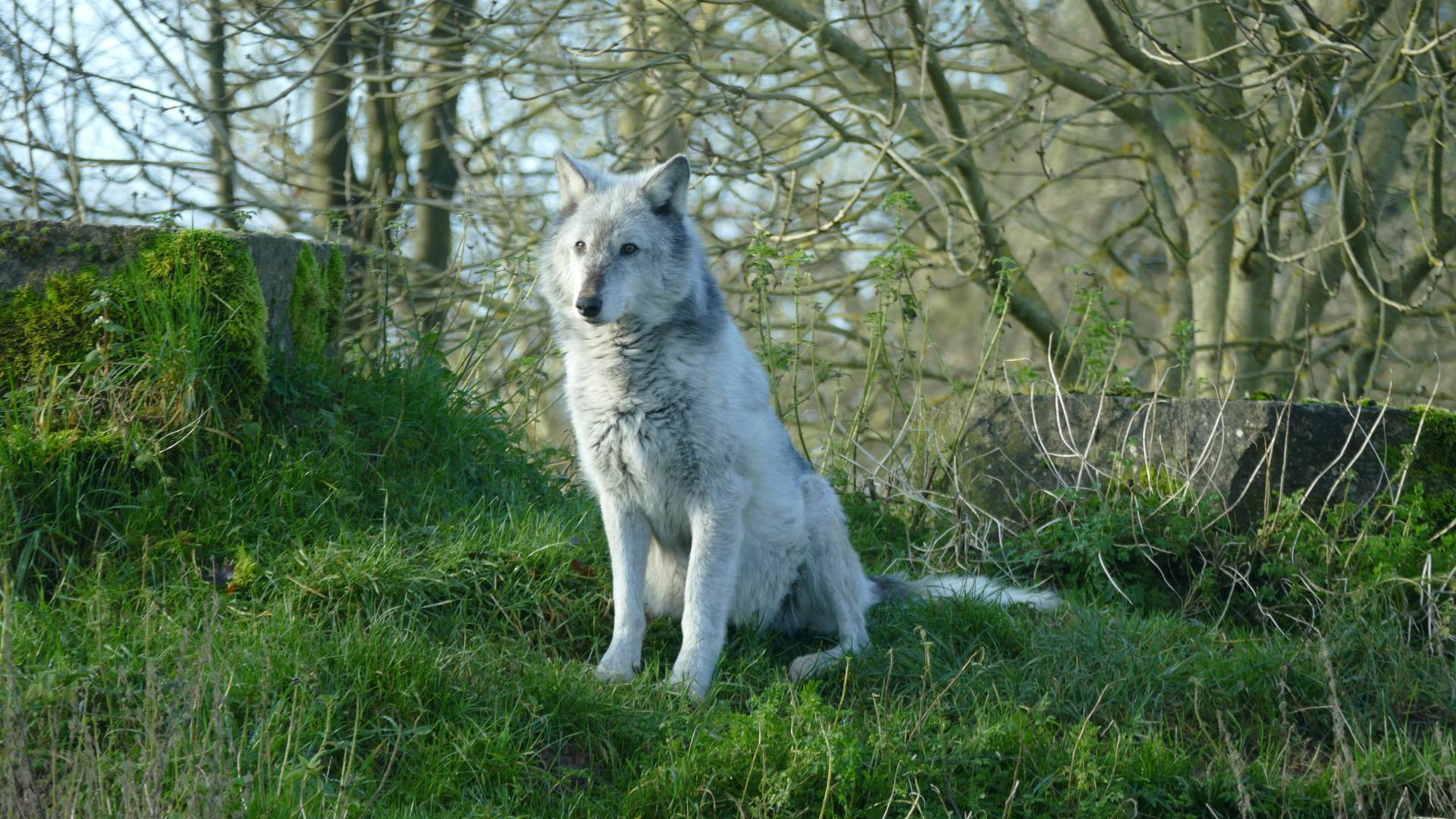 1st February 2020
Saturday was a mild, breezy and springlike day. As the volunteers arrived, Mosi kept watch, with Torak not far away either. Both of them then followed us down to the corner of their enclosure, doubtless hoping to come out.

The day started with a Mai walk. It's coming up to breeding season for Mai and she was torn as to whether or not to come out - you could see her looking at the gate, then over to Motomo, then back at the gate. After a few minutes of this we left, but as we did so she came over to the gate, having decided she wanted to come out after all. We took her around the top field and she spent a considerable amount of time rolling in something smelly - she really enjoyed it.

Straight after that Tsa (the owner of the Trust) came over and joined us for the Beenhams' walk. They went around more slowly than usual, with Nuka being especially interested in the sheep which have taken up residence by the allotments, at the southeast corner of the Trust's land. The interest was reciprocated, as the picture below shows.

After the Beenhams' walk we took Mosi and Torak out. They had a great time, as we took a different route to usual which involved going through Tsa's garden. Mosi was especially interested in exploring the area, which was followed by a walk around the top field. Both wolves seemed delighted to be out, which is good to see!

Lunch followed, both for us and then the wolves; we'd crammed three walks into a couple of hours, so a break was most welcome. The day finished off with us going into the Beenhams' enclosure, where Tundra as usual gave out some neck-rubs. Tala was flitting around, trying to sneak in some fuss and attention without her sister noticing. Before long all three wolves rushed away, which was our cue to leave.

Nuka picture by Katharine, Mai picture and video by Eve.