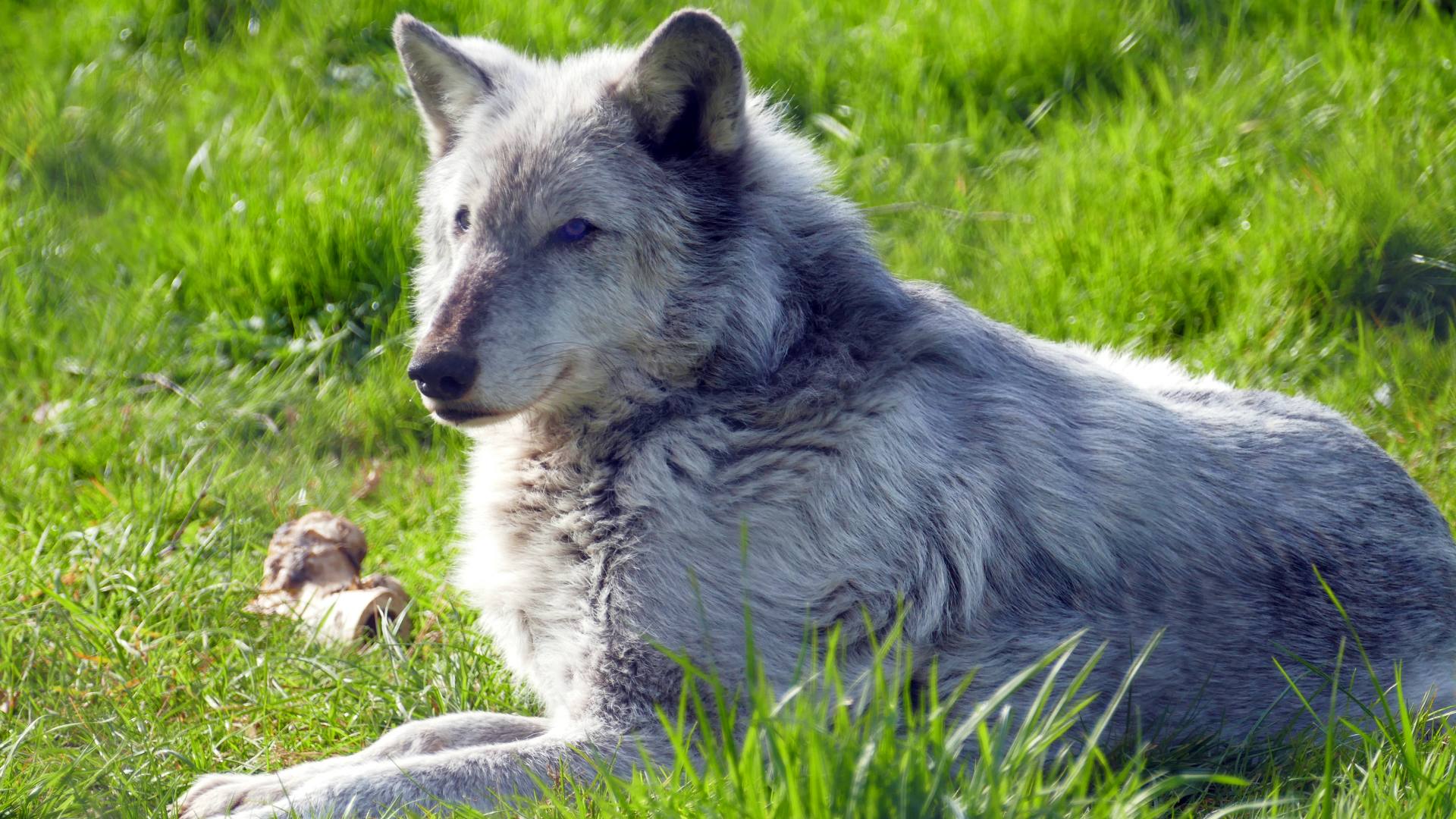 22nd March 2020
Due to the COVID-19 outbreak and Government recommendations, it has been decided we will not take the wolves out for walks to avoid close contact between the handlers.
Instead we will still attend as usual, keeping our distance from each other and maintaining a high level of hygiene.
Our updates will therefore not be as lengthy but rest assured we are still taking full care of the wolves and giving them regular enrichment, which of course we thoroughly enjoy!

Today we all cleaned out their bedding areas again and swept down the hard standings. Once the weather really does start to improve we will pressure hose all the concrete hard standings.
We ran some food trails into the Beenhams' enclosure and then let them out from their holding area to go and find the food. This is a good thing to do with their food sometimes, instead of feeding them through the fence. They do then have to actually go and find it!

The intention was to get the Arctics onto their hard standing to give them a check over... not to be... they seemed to become very playful and stop each other going in. One in and two out, then two in and one out! Mai and Motomo were watching the game going on and were keen to get the Arctics back near them so they could fence run.

Today was lovely and sunny, so sitting apart all around the Trust, we enjoyed the sun's warm rays before heading off home. Update and photos by Eve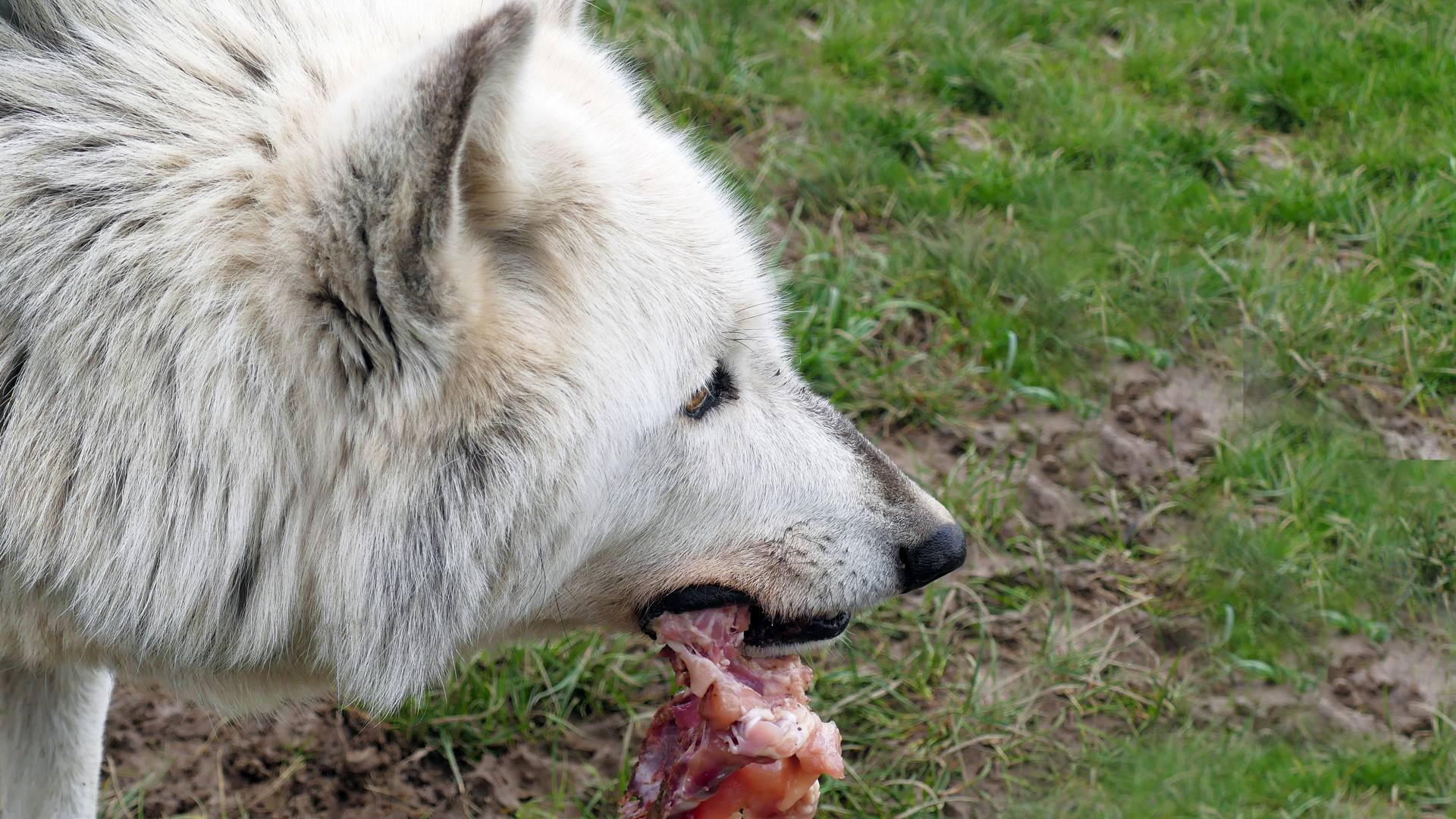 14th March 2020
Our first and only walk of the day was with the Beenhams. Since we closed to the public Tundra has been much more confident. She is normally at the front of the wolves rather than trailing far at the back like she used to on public walks. We do sometimes come across people on the public footpaths but as the wolves are kept a reasonable distance away she is not bothered. Today, however, we came across a family who were very keen on the wolves and wanted to watch them go by from a safe distance. As they had stopped and were looking at the wolves Tundra immediately reverted to her previous behaviour and was not happy until they were out of sight.

The recent high winds have blown quite a lot of rubbish onto the field especially near the houses in the village. Nuka managed to find a plastic bottle in the long grass and decided it was fun to chew on. Luckily handlers are trained to deal with issues like this and the situation was soon resolved without him swallowing anything that may harm him.

After the walk it was time to clean out their sleeping areas which they have been using during the recent bad weather. It is not only the wolves that use the straw for shelter but other small forms of wildlife. Deb went to pick up what she thought was a piece of toilet only to find it had legs and moved. It was a toad which would have been a snack if the wolves had seen it. It was moved over to the willow wolves where it could stay dry and warm but safe.

Nuka the comedian then showed us how daft he can be. In the middle of feed time he threw his head back into a howl and the piece of chicken and beef that was in his mouth fell out onto the floor. With Tala on one side and Tundra on the other the meat was devoured before he put his head down. When he did look down he looked totally confused as to where it had gone.

It is unusual to howl during feed time but this was probably prompted by the fact the local hunt were nearby. The wolves always pick up the sound and smell of the hounds long before we do. The Arctics were howling and Nuka ran towards them and then ran onto the top of the mound for a better all round view. Satisfied all was OK he returned back to us and finished his food.

All the wolves were fed and water buckets checked before we set off home. Another great walk.Update by Cammie, photos by Eve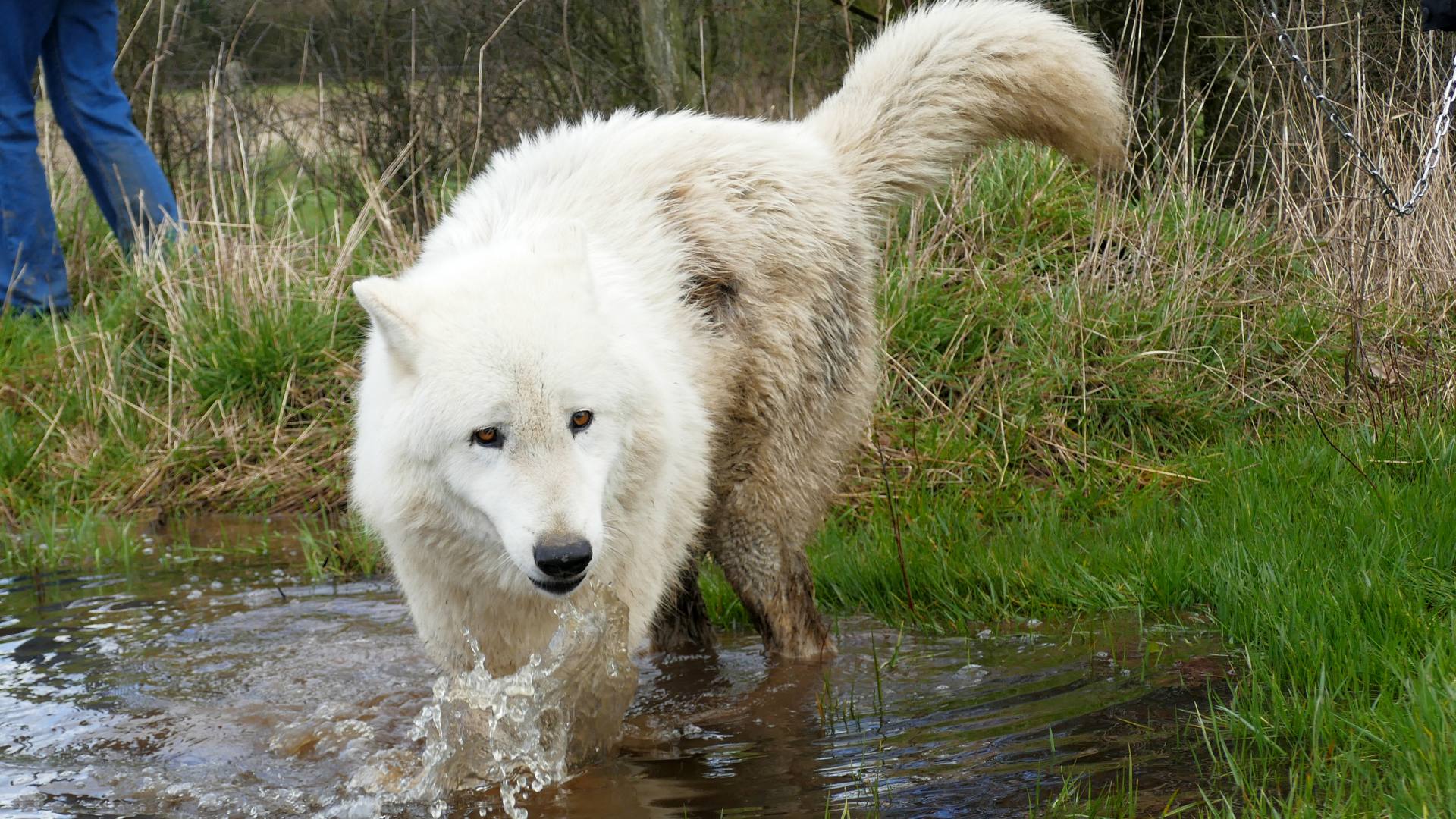 8th March 2020
We all arrived at the trust after driving through more flooded roads! The wind had subsided overnight and we had the makings of a promising day.

After putting the Beenhams into their holding area, the Senior handlers collared up the very muddy Arctics, who were keen to come out. Sikko enjoyed giving Cammie a muddy kiss and Pukak was sporting a David Bowie style Ziggy Stardust mud arrangement on his face.
We came to the pond that Matt one of the handlers has made a few years ago and hoped all 3 wolves would go in and clean themselves off. They are two tone currently - white on top and dark brown at the bottom... We also wondered if they would get the handlers following them there, but we all moved on without any watery incidents.
The other wolves were very vocal while we were out and unusually Pukak howled back! Surprisingly Massak did not tell him off. They still displayed, at times, some hormonal behaviour as the breeding season draws to a close. We saw some growling and tail in the air from Massak, which is always impressive to observe this behaviour. At times he sounds like a lion.
Sikko seemed to enjoy walking around trees a few times, maybe trying to make her handlers dizzy. They commented it was like going round a maypole. As we headed back, the heavens opened, so we had our lunch before the next walk with the Beenhams. It was decided to leave walking Mosi and Torak for another week as Torak is still parading around his enclosure, while Mosi looks on serenely.

As we walked down the to take the Beenhams out, it started raining hard again, but as we are so lucky to be walking wolves, we really don't mind! All 3 were straight on to the hard standing and collared up swiftly.
We then made out way though the fields, squelching away in the mud and thankfully all staying upright. The rain eased and we had an uneventful walk with them.

After preparing all the food and feeding them we had a bit of fun with all the kites circling around. Mosi had refused a piece of paunch (looks and smells like old dishcloth, but the wolves love it) so we waved it around. There were 7 kites all having a look and eventually we threw it up for them to retrieve once we had all moved away. They often swoop down into the enclosures very close to the wolves to grab anything they are slow in eating, much to the wolves' consternation!

The skies cleared of course, as we said our goodbyes for another week. Some handlers come down in the week to look after them but most of us have to work, which is why we walk the wolves at the weekends. Update, video and photos by Eve.
---