---
Croatia - in depth
ORGANISATION DETAILS
Biology Department
Veterinary Faculty
University of Zagreb
Heinzelova 55
HR-10000 Zagreb
CROATIA
Web address:
www.vef.hr
, (mostly about the institution, no info about the project)
www.life-vuk.hr
(LIFE-WOLF project web site is regularly updated)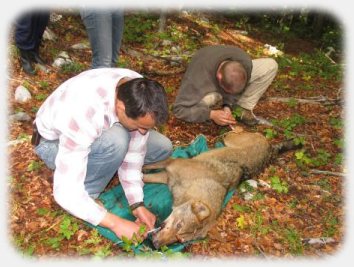 The 2010 action plan for the project is:
•    In 2010 we will continue the radio-tracking of marked wolves and lynx.
•    We plan to capture and mark two or three wolves, and one lynx.
•    Continue the survey of mortality of both species, as well as their food habits.
•    Continue to actively contribute to implementation of lynx and wolf management plans.
•    On all transportation routes that cause direct mortality or contribute to habitat fragmentation we will monitor and implement additional transparency mitigation structures.
•    The remaining 5 (out of initial 10) radio collared roe deer and red deer will continue to be tracked.
•    We will initialise the use of trap cameras to individually distinguish and count lynx. The intention is to introduce this method as official for monitoring lynx distribution and density in the whole lynx range in Croatia
How the funding will benefit wild wolf conservation in Croatia and in Europe
Within the process of integration into European Union, the strategic goal of Croatia's nature protection policy is to fulfil its international commitments. As a party of the Bern Convention on the Conservation of European Wildlife and Natural Habitats, Croatia is obliged to ensure full protection of the species in accordance with the Pan-European Action Plan for Conservation of Wolves in Europe, adopted by the Council of Europe. It is also in line with the EC's nature protection policy, the EC Habitat Directive and the IUCN Wolf Manifesto adopted by the European Parliament. The project also meets goals of the National Strategy and Action Plan for the Protection of Biological and Landscape Diversity that outlines conservation and management of wolves as one of priority action plans.
This project will contribute to long-term survival of wolves in Croatia and also as a source of geographically and genetically closest populations for re-colonisation towards the west. All experience and results of the project could be used as a model for wolf management planning in neighbouring countries; Slovenia, Bosnia and Herzegovina, that share the habitat of wolf population. They could also be useful for application in other CEE countries as well as the countries of Western Europe that are in the process of restoration or that plan to restore wolves.
Since the very beginning, the research was oriented towards wolf conservation, because of numerous questions needing to be answered for a successful wolf conservation programme. As a follow-up of previous studies of wolves in Croatia, this project will be carried out in the Gorski Kotar and Velebit study areas by experts from the Veterinary Faculty.
Each year we accept a certain number of students or researchers from any parts of the world. While staying with us and doing field work, they learn wolf study techniques and are introduced to all the issues facing the conservation of wolves in Croatia. During the previous years of wolf study in Croatia we hosted researchers and students from: Germany (3), Switzerland (1), Italy (4), Norway (4), Slovenia (5), Mongolia (1), Louisiana, USA (1), Bulgaria (1), Russia (1), Georgia (1) and Bosnia & Herzegovina (2).
Further information about this project is available via the
2009 project report
.
It provides detailed information on the use of last year's £3000 donation from the UKWCT.
This article
regarding Josip's work with European wolves in Croatia was published in Wolf Print issue 26.
In 2010 the UKWCT continues to fund the field work in Croatia and donated £4000 in March 2010.