---
Children's events
Many special events take place at the wolf centre during the school holidays and more are added throughout the year. Remember if you are a junior member you receive a free place on one of the children's day walks and 10% off any other children's events organised by the UKWCT throughout the year.
For more details and to book contact the office on 0118 9713 330.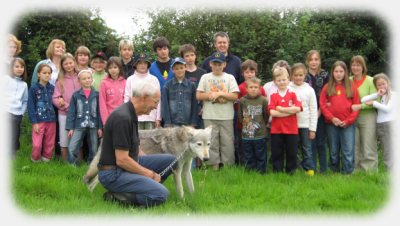 Children's wolf walk
Join our wolves for a special children's walk. £13 per person, ages 6 and up. No more than 2 Adults per booking.   New dates for Summer School holidays will be released mid May.



Wolfy Art
Come and get creative and walk with a wolf! Artist Susan Smith is here to create some wolfy artwork with you. Susan is a retired local Head of Art and Design teacher and loves getting creative with colour and texture - ideal for creating great wolf pictures and collages. First you 'll gather some inspiration for your piece by going on a walk with our wolves. Then, while the grown - ups enjoy some tea and coffee, the children will join Susan in the Education Centre to start off their artwork. During the lunch break kids and adults will meet up and once you've enjoyed your lunch, adults can then accompany their children back to the Education Centre to see what they've been creating and help put on the finishing touches. £25 for 1 adult and 1 child. Packed lunch required. Next date will be in Summer Holidays & will be announced mid May.



REMEMBER: IF YOU ARE A JUNIOR MEMBER, APART FROM YOUR FREE CHILDREN'S DAY WALK, YOU WILL GET 10% OFF ALL OTHER CHILDREN'S EVENTS AT THE TRUST.